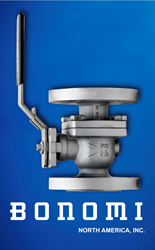 The new split body valves accept any appropriately sized ISO standard actuator.
Charlotte, NC (PRWEB) May 13, 2014
Bonomi North America has introduced a new line of ANSI Class 150 flanged industrial full-port ball valves, designed for easy automation with low operating torque and direct actuator mounting. The new split body valves accept any appropriately-sized ISO standard actuator and are performance-matched to Bonomi's Valbia electric and pneumatic actuators.
Designated the Valpres 766000 Series (stainless) and 766001 Series (carbon steel), the valves feature an ISO 5211 mounting pad and square stem, raised-face flanges and Fire Safe certification to API 607, 6th edition. In addition, they are also certified to API 6FA. They are designed to ANSI 16.5, ANSI 16.10 and ANSI 16.34. They meet NACE MR 0175, NACE MR 0103 and are TUV T.A. Lusft approved.
Valpres 766000/766001 Series valves are currently available in five sizes: 1", 1½", 2", 3" and 4". They offer long service life with minimal maintenance in applications such as power generation, pulp and paper, chemical/petrochemical processing, water treatment and skid mounted pumping systems.
Standard features include virgin PTFE seats, stainless steel ball and blowout proof stem, and a locking handle that can be secured in either the open or closed position. The stainless steel body is cast from ASTM A351-CF8M. The carbon steel version is made from ASTM A216-WCB. Optional high-temperature seats are also available.
About Bonomi
Bonomi North America has served the U.S. and Canada since 2003 and is part of the Bonomi Group of Lumezzane, Italy. Bonomi Group brands include Rubinetterie Bresciane Bonomi (RB) brass ball valves and check valves; Valpres carbon and stainless steel ball valves; and Valbia pneumatic and electric industrial actuators. Bonomi North America maintains an extensive distribution network for these products from its headquarters in Charlotte, N.C. and a facility in Oakville, Ontario, Canada.
For more information on Valpres 766000/76001 Series valves or other Bonomi products, contact Bonomi North America at (704) 412-9031 or visit online at http://www.bonominorthamerica.com.