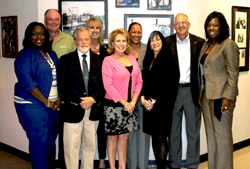 This is a tremendous milestone for AMIkids, and most importantly, for the kids we serve.
Tampa, FL (PRWEB) May 09, 2014
AMIkids, Inc., a nationally recognized non-profit operating youth development programs across the country, has received recommendation for national education accreditation from an external review team with AdvancED.
During a presentation held at the AMIkids offices on Benjamin Center Road in Tampa this week, Dr. Drew Moore, Lead Reviewer of AdvancED External Review Team, went over the results of the comprehensive evaluation conducted throughout the organization. The review team conducted 144 interviews with administrators, teachers, support staff, parents, students and volunteer board members, as well as 28 classroom observations at seven AMIkids sites. "We respect the work you do with these kids," said Moore during the results presentation. He continued, "We know that many of these kids would not have a chance were it not for AMIkids."
As a part of the review, the AdvancED team spoke with stakeholders, asking them to use one word to describe the AMIkids organization. Words they used were, "effective, life-changing, opportunity, excellence, passion, leadership and transformation," among others. Moore said, "We heard all of that, and we agree."
President and CEO of AMIkids O.B. Stander said, "This is a tremendous milestone for AMIkids and, most importantly, a milestone for the kids we serve." He continued, "This recommendation for accreditation speaks to our approach with kids. Our unique combination of education, counseling and behavior services works. I am very proud of the work we do and of the many dedicated AMIkids team members across the country who are so committed to helping kids transform their lives."
Accreditation is a voluntary method of quality assurance developed more than 100 years ago by American universities and secondary schools, and designed primarily to distinguish schools adhering to a set of educational standards. AdvancED is the world's largest education community, serving more than 30,000 public and private schools and districts across the United States and in more than 70 countries that educate over 16 million students. AdvancED brings together more than 100 years of experience and the expertise of three US-based accreditation agencies — the North Central Association Commission on Accreditation and School Improvement (NCA CASI), Northwest Accreditation Commission (NWAC), and the Southern Association of Colleges and Schools Council on Accreditation and School Improvement (SACS CASI). The AdvancED Accreditation Process is a clear and comprehensive program of evaluation and external review, supported by research-based standards, and dedicated to helping schools, districts and education providers continuously improve.
This distinction is the latest national recognition for AMIkids. The AMIkids Personal Growth Model© has been nationally recognized by the Substance Abuse Mental Health Services Administration (SAMHSA) as an "evidence-based" model for improving the academic achievement of at-risk students and for reducing delinquent behavior. In addition, the AMIkids Day Treatment Model has been designated as a "promising model" by the Office of Juvenile Justice and Delinquency Prevention for reducing re-offending behaviors and is the only Day Treatment Model recognized. Most recently, AMIkids Community-Based Day Treatment Services were cited as a "promising model" on CrimeSolutions.gov, a resource site for the National Institute of Justice, Office of Justice Programs.
In their work to help kids transform their lives, AMIkids relies on support from the local community through donations, volunteers and board service. To learn more about available opportunities or to make a donation, visit http://www.AMIkids.org.
About AMIkids
Founded in 1969, AMIkids, Inc. is a nationally recognized not-for-profit that offers a promising future to kids through positive and motivating programs that inspire learning, leadership and personal growth. Through education, counseling and behavior modification services, students are empowered to make positive decisions that will ultimately shape their future and allow them the opportunity to transform their lives. For more information, visit http://www.amikids.org.