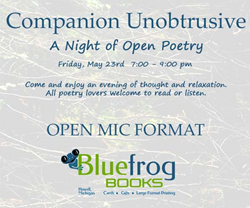 Howell, MI (PRWEB) May 09, 2014
After having many requests to have more poetry events from patrons and poets alike, Blue Frog Books announces its 2nd open poetry event, "Companion Unobtrusive #2- A Night of Open Poetry," All are welcome to recite or enjoy poetry in an evening of thought and reflection. Starting at 7:00 pm and finishing up around 9:00 pm, the event will cycle through all poets for the evening in an open mic format.
Blue Frog Books is committed to being a place where people can get together and enjoy artful exchanges and is always interested in hosting events with local artists, authors, photographers, and acoustic musicians. Blue Frog Books is located at 3615 E. Grand River in the Grand River Plaza with Carson's and Dunham's. For more information or to speak with someone about booking your event, call (517) 552-6080 or visit bluefrogbooksandmore.com or facebook.com/bluefrogbooks.