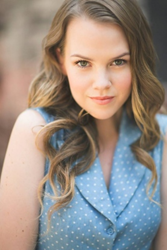 If I had done anything else in life...I don't think I'd be doing what I was born to do.
Atlanta, GA (PRWEB) May 08, 2014
"Mom's Night Out" is an upcoming "mom-com" about the lives of stressed-out mothers who want to take a night out on the town. Premiering on Mother's Day weekend, the film targets families everywhere, highlighting both the struggle and beauty of parenting. The faith-based comedy goes along with AMTC's mission to "make good bolder." Carey Lewis, co-founder of Actors, Models and Talent for Christ, speaks about the organization's purpose, "God is raising a generation of performers who will be positive role models for a world that desperately needs them." Lewis said.
Abbie Cobb, raised in Papillion, Neb., won Best Overall Actor at the 2005 AMTC Winter SHINE convention. She later returned to SHINE in the Winter of 2006 and won first place awards in multiple categories. Since then, Abbie has been in over 15 television shows like "Bones" (2013) and "The Secret Life of the American Teenager" (2013). In addition, she has snagged roles in television commercials and several films. Currently, Abbie resides in Los Angeles, Calif. and is a recurring character, Kimantha, on a television series called "Suburgatory."
Abbie admits that the road to success is not something that is easily accomplished. It requires dedication and work, but is ultimately most fulfilling. In a recent interview, she speaks about her passion to act, "If I had done anything else in life that had been a little bit easier, a little bit less expensive, a little less heartbreaking, I don't think I'd be doing what I was born to do," Cobb said. She even says that some of her favorite roles have been the most difficult to tackle, like playing Evelyn Mace in "Longmire" and Mackenzie Bradshaw in "Intelligence."
Founded in 1982, Actors, Models and Talent for Christ is a non-profit organization that strives to see the Great Commission of Jesus Christ fulfilled in film, fashion, music and theater. AMTC holds strongly to the belief that in order to transform the entertainment industry, God's stars must choose to be in it, but not conform to it.
Watch Abbie play the role of Bridget in the comedy, "Mom's Night Out," premiering on May 9, 2014. The film is directed by the Erwin Brothers, and comes from filmmaker Alex Kendrick, who was also behind "Fireproof" and "Courageous."
For more information about AMTC or to audition for the international SHINE conference, visit http://www.amtcworld.com. To receive regular updates, follow AMTC on Facebook and Twitter.