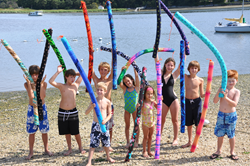 Nicki Noodles are fun, fashionable, and changeable pool noodle covers that are set to give the pool noodle and pool a brand new look this summer.
(PRWEB) May 08, 2014
Poughquag, NY (PRWeb), May 9, 2014 - While there are hundreds of different pool toys available, one toy has remained as the top seller for nearly two decades – pool noodles! Millions of noodles are sold every year, but there is one major problem: there is no variety. Noodles come in a very limited range of solid colors, so after all this time, the creative minds at Nicki Noodles decided to give pool noodles a much-needed upgrade. Nicki Noodles are fun, fashionable, and changeable pool noodle covers that will add some extra pizzazz and personality to your pool toys.
Nicki Noodles can be easily removed, cleaned, and transported, which means that you can bring these stylish covers when you travel to the beach, go on vacation, or even spend an afternoon at a pool party. You also won't have to worry about getting your noodles mixed up in crowded pools; the first run of Nicki Noodles has 12 different patterns, including camouflage, floral print, psychedelic, animal print, and shooting stars.
The huge popularity of pool noodles and the ingeniously simple design of these noodle covers is why the company has turned to Kickstarter. Crowd-funding the initial run of this project will be the fastest way to spread the word about Nicki Noodles and get them into swimming pools across the country!
Beyond domestic use in the backyard pools of the world, the easily customizable design of Nicki Noodles also makes them perfect for corporate advertisement, cruise lines, resorts, amusement parks, sporting venues, hotels, and promotional campaigns. The applications for these noodle covers are endless, and now that Nicki Noodles holds the exclusive patent on the idea, the sky is truly the limit! In terms of getting your hands on these cool new pool accessories, you will be able to find them on the Nicki Noodles website, eBay, Amazon, Google Shopping, and bing Shopping. They already have a supplier that can work on a large scale, and are looking forward to getting Nicki Noodles into major commercial retailers all over the country in the near future.
This Kickstarter campaign will allow them to create their first production run and start releasing Nicki Noodles to consumers. They plan to invest that first-run income right back into the inventory, and create an even wider range of designs, sizes, and materials as the company continues to grow. Even a small contribution will go a long way towards bringing this idea to life and wrapping plain old pool noodles with some fresh new flair.
If you are one of the millions of people who love swimming pools and summertime fun, or if you can see the exciting potential of Nicki Noodles for businesses in dozens of industries, then visit the Nicki Noodles Kickstarter page to learn more and to become a backer for the project.
Nicki Noodles, LLC is a manufacturer and importer of pool noodle covers and other pool toys and supplies that started in 2014 with the mission of "A pool noodle cover in every pool". To find out more information visit their website at http://www.nickinoodles.com.