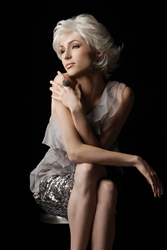 With 26 hair shades to choose from, Gabor gives women endless choices and styling freedom.
(PRWEB) May 12, 2014
For women everywhere, spring is a time to start planning for a season makeover. Eva Gabor's 2014 Spring Collection is now on VogueWigs.com, and women can revamp their looks with four new chic pixie cuts and one medium-length style. With this collection, every lady's appearance is going to get a fresh new twist.
Gabor wigs create a luxurious experience that's combined with comfort. The brand aims to create highly customizable wigs that allow women to incorporate them into their personal style. With 26 hair shades to choose from, Gabor gives women endless choices and styling freedom.
The terms 'limited edition' indicates a special item, and Gabor's Limited Edition wig is, to say the least, one of a kind. Because this wig includes a lace front, wearers have the option of styling their hair away from the face. Moreover, its precise layers ease out of a natural-looking hairline and blend into a neck-hugging nape.
The Viewpoint wig, with its side-parting and thick bangs, is a sweet look reminiscent of Anne Hathaway's boycut. Unlike the other short styles in this collection, Viewpoint has fewer layers that make it look pleasantly thicker. A notable feature of this wig is its layered bangs that highlight the eyes. Anne's boycut also highlighted hers.
Short hair is lighter, and during spring, it moves better in the breeze. Short and Sweet is a short cut that is as carefree and relaxed as the season. This style has wispy layers all around and volume that's not easily attained with short hair. Since this silhoutte is hand-knotted at the top, it can be parted in multiple ways.
Because of spring's beautiful weather, there's no better time to wear short hair than now. Casual Chic is an above-the-chin shag with outward-flairing sides. The style is both sporty and sexy just like actress Halle Berry's short, flipped out hairstyle that has become one of her iconic looks.
In a collection full of quirky pixie cuts, Triumph is the only mid-length style. Characterized by tight curls, Triumph was made for the glamorous woman. Mariah Carey and Alicia Keys are two celebrities who have glamed it up on the red carpet in similar styles. With this wig, women won't find themselves in a style rut this season.
Sometimes it's difficult to feel inspired to try a new look, but with Gabor's 2014 Spring Collection, it's hardly difficult. So for this season, go bold.
Want to know more?
For more information about the collection, visit http://www.voguewigs.com.
About Voguewigs.com:
VogueWigs.com offers the best collection of high-quality wigs and hairpieces. For every woman who wants the hair of her dreams, we're here to help her get it.