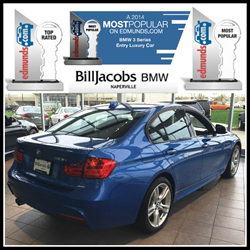 Naperville, IL (PRWEB) May 09, 2014
Bill Jacobs BMW of Naperville is excited to announce that 4 BMW models recently won the Edmunds' Top Rated and Most Popular Vehicle Awards for 2014. Bill Jacobs BMW is proud to be the home of Edmunds' four most popular vehicle entries, and welcomes the public to stop in for a test drive to see what sets these vehicles apart from the competition.
The Edmunds Testing Team evaluates about 200 cars each year. Each vehicle is driven on a standardized road test loop and undergoes instrumented testing in controlled conditions. The Edmunds team uses their findings to develop ratings to grade how a car stacks up against its direct rivals in its size and price class.
Vehicles that earn an "A" rating receive an Edmunds.com Top Rated Award. The following BMW models were just announced as winners of the Edmunds Top Rated Award:
*2014 BMW 3 Series
*2014 BMW 4 Series
*2014 BMW 535d
*2013 BMW M3
Each month, Edmunds.com also evaluates new vehicle shopping activity of the users visiting their website. By measuring the unique website visitors who land on research and inventory pages on Edmunds.com for each new model on a monthly basis, they derived the Most Popular Vehicle list from the three models in each vehicle segment with the highest online car shopper consideration across the calendar year 2013.
The Most Popular Edmunds award winning Ultimate Driving Machines of 2014 include:
*The BMW 3 Series - named Edmunds.com's Most Popular Entry Luxury Car of 2014
*The BMW 5 Series -named Edmunds.com's Most Popular Midrange Luxury Car of 2014
*The BMW X5 - named Edmunds.com's Most Popular Midrange Luxury SUV of 2014
During the 2014 New York Auto Show, Edmunds made a trophy presentation to the BMW executives in attendance. Bill Jacobs BMW of Naperville is excited to share this news with the community, and looks forward to celebrating this accomplishment by offering a great selection and unmatched incentives on these award winning vehicles.
About Bill Jacobs BMW
As one of the largest BMW dealerships in the Chicagoland area, Bill Jacobs BMW is fully committed to creating a shopping experience for their customers that matches the luxury products they represent. In keeping with the Bill Jacobs tradition, they promise to provide a customer-friendly purchasing experience, as well as a responsive and reliable experience in their service department. With over 50 years in the automotive business, Bill Jacobs BMW is a name you can trust.
For additional information, visit Bill Jacobs BMW at 2495 Aurora Avenue, Naperville, IL 60540 or by calling (866) 516-8010. Visit Bill Jacobs BMW online at http://www.billjacobsbmw.com/index.htm.