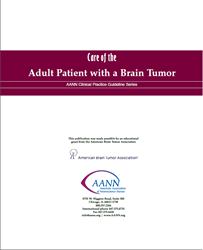 "Through these guidelines, nurses in all practice settings have access to the knowledge and tools needed to guide their patients to the best possible outcomes."
Chicago, IL (PRWEB) May 12, 2014
To meet the unique needs of brain tumor patients, the American Brain Tumor Association (ABTA) and the American Association of Neuroscience Nurses (AANN) announce the availability of the first ever clinical practice guidelines (CPG) for the treatment of adults with brain tumors.
The Care of the Adult Patient with a Brain Tumor Clinical Practice Guideline was released today with an educational webinar to follow. The two organizations will release a clinical practice guideline for the Care of the Pediatric Patient with a Brain Tumor in summer 2014.
Every day, 500 people across the U.S. are diagnosed of with a brain tumor. 4,300 children will be diagnosed with a brain tumor this year.
The ABTA and AANN partnered to produce these guidelines to fill a critical gap in brain tumor patient care. As leaders in their fields, both organizations spearheaded the project in order to ensure that health care professionals caring for brain tumor patients have the information necessary to deliver optimal patient care.
According to ABTA Chief Mission Officer Deneen Hesser, MSHSA, RN, OCN, "Through these guidelines, nurses in all practice settings have access to the knowledge and tools needed to guide their patients to the best possible outcomes."
The goal of the clinical practice guidelines is to help nurses provide consistent and evidence-based care for brain tumor patients and their families from diagnosis throughout the trajectory of the illness. Specific topics include: epidemiology; anatomy and physiology; emergent care; diagnosis; such treatments as surgery, radiation, and chemotherapy; symptom management; and end of life care.
According to guidelines' co-author and American Brain Tumor Association Senior Advisor Mary Lovely, PhD, RN, CNRN, "The information contained in these new guidelines is based on a thorough review of recent studies and literature and includes for nurses especially, new and valuable information and instructions from what they were taught."
Lovely adds that, in addition to monitoring and treatment of the patient, "the brain tumor clinical guidelines provide information on survivorship and how nurses can help patients better manage side effects in order to move toward an optimal quality of life."
The full version of the guidelines can be found at http://www.abta.org/for-healthcare-professionals/clinical-practice-guidelines.html or http://www.aann.org/pubs/content/guidelines.html.
ABOUT THE AMERICAN BRAIN TUMOR ASSOCIATION
Founded in 1973, the American Brain Tumor Association was first and is now the only national organization committed to funding brain tumor research and providing support and education programs for all tumor types and all age groups. For more information, visit http://www.abta.org or call 800-866-ABTA (2282).
ABOUT THE AMERICAN ASSOCIATION OF NEUROSCIENCE NURSES
Founded in 1968, the American Association of Neuroscience Nurses (AANN), an organization of more than 4,500 members worldwide, is committed to working for the highest standard of care for neuroscience patients by advancing the science and practice of neuroscience nursing. AANN accomplishes this through continuing education, information dissemination, standard setting, and advocacy on behalf of neuroscience patients, families, and nurses. For more information, visit http://www.AANN.org.