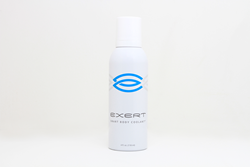 With Exert, women stay cool, dry, and relaxed.
(PRWEB) May 08, 2014
Hot flashes happen throughout the day and are often caused by external sources. Common triggers such as wine, spicy food, and stress, can be cut out of life in order to avoid the heat and sweating. The spring and summer and the hot weather that come with the seasons however, cannot be avoided. Women experiencing menopause worry about the potential trigger the heat brings. Exert Co. gives these women a way to keep their skin temperature regulated and cool.
Exert released Exert Smart Body Coolant, a proactive way to help stay cool before the hot flashes begin. When asked why it is referred to as a "smart" body coolant, CEO of Exert Co., Christopher Joyce responded by saying that, "Exert is smart because it works only when skin temperature spikes." Skin temperature spikes such as hot flashes happen at random so Exert regulates skin temperature effectively throughout the day. Simply spray on Exert in the morning or at night before bed. Exert doesn't feel cold when applied but instead works by drawing heat away from the body only when the body needs it. When skin temperature rises, Exert activates and cools the skin by 2 to 6 degrees. When body temperature drops to normal, Exert recharges and is ready to cool again without the need to reapply.
Exert Co. released Exert in October 2013 much to the celebration of approximately 27 million women across the country experiencing hot flashes and night sweats every single day. One of those 27 million women is Caitlyn Houston of Confessions of a Northern Belle. "I sprayed my neck and back (where I sweat the most) and woke up that night with a sweaty head, but a cooling sensation on my neck and back. It was amazing!"
After the winter that we had, a warm spring and summer are welcomed with open arms for sure. For women experiencing menopause, hot flashes are unfortunately triggered by external heat. With Exert, the skin temperature stays regulated so women stay cool, dry, and relaxed.
A 4 to 6 week supply of Exert Smart Body Coolant retails for $30. To learn more about Exert Smart Body Coolant visit http://exertco.com or call 877-929-9922.
About Exert Smart Body Coolant
Exert Smart Body Coolant is a once a day body spray that activates only when skin temperature spikes. Exert cools the body by up to 6 degrees. Whether it's menopause, hot flashes, stress, medication, anxiety environment, excessive sweating, or physical exertion, Exert Smart Body Coolant helps regulate skin temperature. To learn more visit http://exertco.com.
About Exert Co.
Exert Co. is a Wilmington, DE based company that makes smart, functional, consumer products that solve "big market" problems in completely new ways.