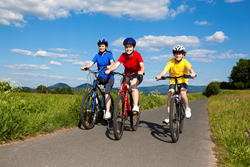 Lincoln, RI (PRWEB) May 08, 2014
As the weather gets warmer, many adults and children will dust off their bicycles and start riding again. In honor of National Bicycle Safety Month, Amica Insurance is offering some tips to help promote safety.
According to the National Highway Traffic Safety Administration, there were 677 pedal cyclist deaths and approximately 48,000 injuries from motor vehicle traffic crashes in 2011. Those deaths accounted for 2 percent of all traffic fatalities that year.
That's why it's important to wear a helmet that fits properly and meets federal safety standards when riding a bike. The helmet should fit securely on top of the head, with the straps fastened under the chin. It should not be able to move.
Here are some other bike safety tips:

Find a bike that is the correct size. Your feet should reach the ground when sitting on the bike.
Wear bright clothing with reflective material when riding.
Attach a light and reflectors on your bike if you plan to ride at night.
Check the brakes and gears on the bike to make sure they're working, and keep the tires properly
inflated.
Ride in the same direction as traffic.
About Amica Insurance
Amica Mutual Insurance Co., the nation's oldest mutual insurer of automobiles, was founded in 1907. The company, based in Lincoln, R.I., is a national writer of automobile, homeowners, marine and personal umbrella liability insurance. Life coverage is available through Amica Life Insurance Company, a wholly owned subsidiary. Amica employs more than 3,200 people in 40 offices across the country.
CONTACT: Vince Burks, Corporate Communications, 50 Amica Way, Lincoln, RI 02865-1155, 800-652-6422, ext. 24563
Twitter: Amica
Facebook: Amica Mutual Insurance Co.