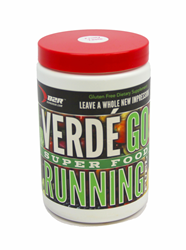 ...more efficient energy by creating a more efficient body without filler calories and added sugar.
Alpharetta, Georgia (PRWEB) May 13, 2014
The natural running company B2R formally announced today they would be offering their revolutionary nutrient based performance drink, Verde Go, with most purchases. The company is taking innovative steps to help runners become more efficient through strength training, footwear and also nutritional efficiency, which is the purpose of Verde Go. Furthering the message of Born to Run, B2R's mission is to give runners the necessary tools to maximize their running, and Verde Go is the super food to train the body from the inside out.
Verde Go is not your run of the mill sports drink, as it is packed full of 25 servings of fruits and vegetables per scoop. The mix is a compound of raw freeze-dried fruits and vegetables aiming to maximize oxygen at the cellular level. This creates energy in the muscle fibers of the body, and allows an athlete to be in a more alkaline or less acidic state. B2R developed this product as a standalone super food for athletes because it is easily metabolized and aids in hydration during workouts. It also aids in a healthy digestive system and metabolism with probiotics, enzymes, and a gluten-free grain blend. What does that mean for the athlete? Simply put: more efficient energy by creating a more efficient body without filler calories and added sugar.
If you're looking to take your performance to the next level, nutrition is one of the most important steps. You can take that step by making a $60+ purchase within the continental U.S. and a can of the "super food" will be automatically added to the order for free. Drop in at Born2Run and get a free container of Verde Go with your purchase!
About B2R
The B2R movement began when Eric Swartz, an Ironman triathlete, runner, and entrepreneur from Atlanta Georgia read Chris McDougall's book Born to Run. After suffering multiple running injuries, Swartz reached out to the Born to Run coach Eric Orton. Together the two developed a training system that implemented shoes, strength training, run programs, and nutrition. This B2R system is dedicated to the proposition that with the proper run training and footwear, everyone can boost their performance and experience the joy of running. B2R was founded in 2009, and is based in Alpharetta, Georgia. For more information, visit born2run.com.