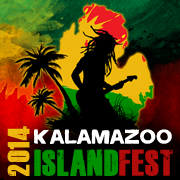 Kalamazoo, MI (PRWEB) May 12, 2014
Island Festival 2014
June 19-21
Arcadia Festival Site, Downtown Kalamazoo
Gates open:
Thursday: 11 a.m. -12:30 a.m.
Friday & Saturday: 11 a.m.-1:30 a.m.
Music Schedule:
Thursday: 5 p.m.-Midnight
Friday: 11:45 a.m. - 1:30 a.m.
Saturday: Noon - 1:30 a.m.
Admission:
Free before 4 p.m. each day
Thursday: $3, 4-7 p.m.; $6 after 7 p.m.
Friday & Saturday: $6, 4-7 p.m.; $10 after 7 p.m.
The 19th annual Island Festival in Kalamazoo welcomes the return of summer in June, kicked off by a renowned reggae songwriter in a benefit concert, followed by two more days of music headline by the legendary band Meditations and reggae superstar Luciano.
The festival brings three-days of reggae music, authentic crafts and Caribbean food to downtown Kalamazoo's Arcadia Creek Festival site June 19-21.
"Once again we have a very strong lineup for the 19th annual Island festival," said festival organizer Paul Toth. "I am most excited to see our friend Taj Weekes." He is in the process of completing his new album. In addition to being possibly the most important songwriter in reggae today, he is very active in helping others in the Caribbean. He was recently named a UNICEF Champion for Children, and his performance on Thursday, June 19 will benefit his foundation, They Often Cry Outreach.
In addition to a direct donation by the event, a portion of the admission from every attendee will be donated to TOCO, which is dedicated to Improving the lives of Caribbean youth through sports, health and enrichment programs.
"This really embodies the One Love spirit of reggae and the Island Festival," Toth said.
Friday's performances will be highlighted by the band Meditations that became a local legend as well as international one.
"We have a long relationship with the Meditations that dates back to Reggae Night at Club Soda," explained Toth, who was manager of Club Soda at the time. "The Meditations are the most beloved vocal harmony group from the golden age of reggae. 2014 is the 40th Anniversary of their formation, so we are very excited to welcome them back to Kalamazoo."
The headliner for the festival on Saturday night is Luciano, who Toth describes as "the most important voice in roots reggae today."
Luciano "is known for putting on tremendous live shows," he said. "He has headlined every major reggae festival in the world. I am so proud to bring this superstar to Kalamazoo."
Along with the music, the festival brings a wide selection of food from over 20 restaurants, craft beers and a full bar for festival goers to try. Tickets for food and beverages are sold onsite at 50-cents per ticket.
Gates open at 11 a.m. each day of the festival, with free admission until 4 p.m. Musical performances begin at 5 p.m. Thursday, Friday and Saturday. The full music line up is published on the Island Festival website.
"Clearly the support for reggae by Kalamazoo and the surrounding states is very humbling," Toth said. "It has allowed me to book the music that I love for more than 25 years. I like to call the Island Festival 'The happiest weekend of the year' because the positivity is infectious. In our negative world we can all benefit from some positive vibrations, so I invite everyone to stop down and enjoy the fantastic music and food while at Island Festival."