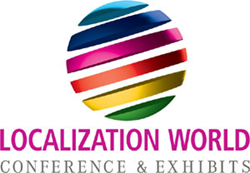 Magnus Lindkvist, one of the world's leading and most respected futurists, will deliver the keynote address.
(PRWEB) May 12, 2014
More than 600 global business executives from 45 countries are expected to attend this summer's Localization World 2014 conference in Dublin, June 4-6.
The conference, which features nine tracks related to "Know-How for Global Success," has a special focus on innovation that is disrupting current processes and product markets.
Localization World brings together delegates who are engaged in the business of adapting products, services and communications to an international language or culture so as to appear native to that particular region. Speakers at the conference include representatives from Adobe Systems, eBay, Google, IBM, LinkedIn, Microsoft, Spil Games and other notable companies.
The conference, produced by MultiLingual Computing, Inc. and The Localization Institute, will be held at The Convention Centre Dublin, Ireland's new world-class conference and event venue.
Magnus Lindkvist, one of the world's leading and most respected futurists, will deliver the keynote address. Lindkvist works with corporations and governments around the world and is the author of When the Future Begins: A Guide to Long-Term Thinking, Everything We Know is Wrong and The Attack of the Unexpected.
According to Donna Parrish, publisher of the magazine MultiLingual and co-organizer of Localization World, Dublin has a long and deep connection to the localization industry and interest is very high. "This is the first time we've held the event in Ireland and the enthusiasm is wonderful. Individuals and companies now recognize how valuable the event is for keeping abreast of new and more efficient ways of communicating across language and cultural boundaries."
The preconference day will include round tables for consultants and topics that include sales and marketing, life science business and game localization. There will also be a professional development initiative, an introduction to localization, a quality evaluation summit, a content strategy workshop and a track on interoperability standards.
"Our preconference events have proven very popular," says Ulrich Henes, the conference co-organizer and president of The Localization Institute. "We offer in-depth sessions for experienced professionals as well as sessions for those who are new to the industry or have new responsibilities."
Attendees may choose from nine tracks during the main conference: Global Business, Web/Mobile, Content Strategy, Translation Automation (TAUS), Localization Core Competencies, Advanced Localization Management, Localization Service Provider (LSP), Unconference and The Inside Track.
Some highlighted presentations include:

The Road to Effective Localization
Best Practices for Localizing Marketing Videos: Clearing the Way on a Rocky Road
Localizing in the Cloud: A View from the Trenches
Lowering the Tone: The Challenge of Communicating Locally When You are Translating Globally
The full conference program is available at http://www.localizationworld.com/lwdub2014/program.php.
Event sponsors include: ManpowerGroup Solutions Language Services, SDL, Across, Lionbridge, Welocalize, Moravia and Smartling.