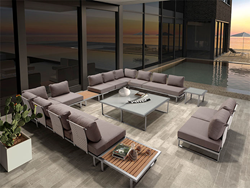 Bringing the indoors out with modern patio furniture built to withstand the Canadian climate.
Toronto, Canada (PRWEB) May 09, 2014
InsideOut Patio launched several major new additions to its patio furniture offerings for the Summer 2014. Among the products designed to address the emerging needs of today's urban backyards and condominium spaces are the Cloud, Loft and Coast stainless steel collections.
The outdoor furniture launch is in conjunction with the official opening up InsideOut Patio's Toronto showroom which now exceeds over 18,000 square feet of patio furniture.
"As a leader in the retail patio furniture industry, InsideOut understands the importance of designing and manufacturing products that address evolving trends with comfort," said Elaine Ni, Sr, Buyer. Loft, Cloud and Coast are modern stainless steel patio furniture sets that combine the art of an electro-polishing manufacturing process, MIG welding and 304 stainless steel.
Cloud is a versatile modular furniture system for a contemporary and creative lifestyle. Cloud is easily adaptable to various space and layout configurations.
The Loft collection delivers a clean, comfortable seating arrangement at a favorable price point. The deep seating component is offered with French manufactured Batyline sling upholstery and quick drying, mildew resistant material.
The Coast collection features an innovative dual leaf extendable table with a frosted scratch free glass top.
InsideOut Patio connects design, outdoor space and people.