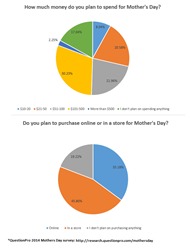 Seattle, WA (PRWEB) May 08, 2014
QuestionPro, Inc., an online survey software provider, released the results of its 2014 Mother's Day survey. The company surveyed Americans on their opinions and behaviors toward the holiday. The results showed over 41% of respondents admitted they spend more in plans and gifts on Mother's Day than on Father's Day. With 50% of consumers feeling better about themselves when they spend more on Mother's Day, it's no surprise the majority are willing to dish out anywhere between $51 and $500 for mom.
Some other findings include:

40% of respondents feel their mothers appreciate it more when they spend more money on them
When it comes to the act of gift giving, 53% feel that it's always or sometimes hollow
When asked about the origin of Mother's Day, 60% of survey respondents did not answer correctly
70% shop for Mother's Day anywhere between the day of and the week of
For shopping online vs. going out, 35% plan to order their gifts on the web, while 45% plan on visiting a physical store
The most popular gifts purchased are flowers with a card, followed by brunch/dinner
For the original survey and report, visit http://research.questionpro.com/mothersday.
-----
About QuestionPro: QuestionPro is a leading provider of online survey software and premium respondent sample services that allows for fast and professional research. It services over 2.7 million users across 100 countries, including Fortune 100 companies, academic institutions, small businesses and individual DIY researchers.