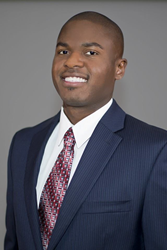 San Diego, CA (PRWEB) May 12, 2014
OneTrust Home Loans and OneTrust Senior Lending, a national leader in mortgage fundings of San Diego, California, announced today the hiring of Alexander Martin, Branch Manager for their Ontario, CA Office.
Mr. Martin has a Bachelor's Degree in Psychology from Loyola Marymount University and an MBA from University of La Verne focused on Finance and Management. Mr. Martin has been in the home lending industry since 2004. His banking career started in 2002 as a Teller where he quickly excelled and was promoted in 2003 to a Personal Financial Representative showing clients how to balance their budgets, invest in the appropriate account types and manage their home equity. He then became very interested in mortgage lending, where he has transitioned to a manager and has successfully managed the closings of over 1,500 mortgages for approximately $375,000,000 in loan volume.
"I take pride in making sure customer service is a priority, not only for the amazing customers and clients that walk in my doors, but also for my team of mortgage professionals who provide support throughout the process. We are dedicated to making sure our clients receive excellent service, the best in quality lending, and the most amazing experience we can provide. Service is everything is a way of conducting business for my team and me, and it is everything to One Trust Home Loans", says Alexander.
Alexander will be responsible for managing the day-to-day activities in the Ontario office. These details run the gamut from recruiting and hiring, problem solving on loan issues that arise, managing a team of loan originators to expand their market share, overseeing loan pipelines, coordinating work flow, and communicating new policies and procedures and associated training to his team.
"Great teams are hard to find, and when you assemble one, you are most thankful for their time, energy, presence and skills. Alexander is one of these individuals. He is an exceptional individual who brings strong leadership skills, industry knowledge, and a caring and positive attitude to our company. We are excited to have him with us. The Ontario area will also be excited to work with him and his staff," stated Josh Erskine, CEO of OneTrust Home Loans and OneTrust Senior Lending.
*****
About OneTrust Home Loans and OneTrust Senior Lending
OneTrust Home Loans is a direct lender and servicer with sales and operations across the country. OneTrust Home Loans provides an array of product options including conventional, FHA, VA, USDA, jumbo, resort lending, and foreign national loan options. OneTrust Home Loans is focused on strategic national growth without compromising its market niche of fast and efficient loan closings and being a home-buying resource for consumers from their search for that special home through closing. OneTrust Senior Lending exclusively offers reverse mortgage products to Seniors 62 and over who need access to their home equity while maintaining homeownership. The company's senior management team has years of experience in successful loan closings. OneTrust Home Loans and OneTrust Senior Lending emphasize customer service as evidenced by their tagline, Service is everything! For additional information please visit http://www.OneTrustHomeLoans.com and http://www.OneTrustSeniorLending.com .