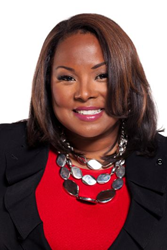 SmallBizChat Live airs during National Small Business Week on Wednesday, May 14 between 8 p.m. and 9 p.m. E.S.T. on SucceedAsYourOwnBoss.com
Philadelphia, PA (PRWEB) May 09, 2014
Quintessence Group and America's leading small business expert, Melinda Emerson, better known as "SmallBizLady," today announce #SmallBizChat Live, a live, one-hour show for small business owners and entrepreneurs based off the hit weekly tweet chat #SmallBizChat. The confirmed cast includes former Baltimore, Md. C.T.O. and digital lifestyle expert Mario Armstrong; serial entrepreneur Jen Groover; LinkShare founder and Internet entrepreneur Heidi Messer; as well legal expert Peter Rothberg. The show airs during National Small Business Week on Wednesday, May 14 between 8 p.m. and 9 p.m. E.S.T. on http://www.SucceedAsYourOwnBoss.com.
"Small businesses employ half of all American workers and fuel our nation's economy," says Melinda Emerson, SmallBizLady and C.E.O. of Quintessence Group. "Business owners deserve a place to get access to the best resources and quality information to grow their businesses. I'm excited to have help from Peter, Heidi, Jen and Mario to make that possible through #SmallBizChat Live."
The show will bring smart, actionable discussions to its 2.5 million weekly audience across the world. Topics include how to use technology to save time and money in your small business; power-networking and why use should use it to grow your business; and biggest small business failures and how to avoid them. As with all SmallBizChats, audience participation is encouraged. Viewers may retweet their favorite moments and ask questions using #SmallBizChat and Google Hangout.
#SmallBizChat Live is executive produced by Melinda Emerson and supported by HP and Pitney Bowes. Throughout the live broadcast, viewers will have an opportunity to win an HP Officejet Pro X as well as a $5,000 cash prize from Pitney Bowes.
About #SmallBizChat
Every Wednesday night, for five years straight and more than 250 shows, Melinda Emerson has interviewed a small business subject expert, live on Twitter, to help entrepreneurs get answers to their small business questions. Melinda recently highlighted her five best moments of SmallBizChat in a blog post on Succeedasyourrownboss.com. To learn more about #SmallBizChat and how to participate visit:
http://succeedasyourownboss.com/what-is-smallbizchat/.
About Melinda Emerson
Melinda F. Emerson, widely-recognized online as SmallBizLady, is one of America's leading woman small business experts and a New York Times small business columnist. Her expertise includes small business start-up, business development and social media marketing. As chief executive officer of The Quintessence Group, Melinda leads a consulting company that helps Fortune 500 companies develop effective strategies to engage small business customers. She reaches three million small businesses weekly online through her social media presence, Succeed as Your Own Boss blog, which is syndicated by Huffington Post, and her weekly talk show on Twitter named #SmallBizChat. Forbes Magazine named Melinda Emerson #1 Woman for Entrepreneurs to follow on Twitter. Additionally, she authored the bestselling book "Become Your Own Boss in 12 months; A Month-by-Month Guide to a Business That Works," and the popular e-book How To Become a Social Media Ninja; 101 Ways to Dominate Your Competition Online. In 2012, Melinda founded the Melinda F. Emerson Foundation for Small Business Success to continue her mission to end small business failure.
###