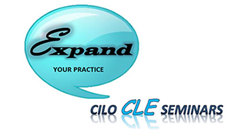 CILO's new CLE Trainings have been created as a social enterprise to help our nonprofit increase its margin so it's better able to expand its mission of promoting independence for people with disabilities and expanding opportunities in the community
West Palm Beach, FL (PRWEB) May 16, 2014
Coalition for Independent Living Options, Inc. (CILO) announced the launch of its Continuing Legal Education Trainings for attorneys and paralegals in West Palm Beach, FL. The first event takes place June 27, 2014 on the basics of Social Security Disability Practice, and will be held at the Children's Services Council of Palm Beach County located at 2300 High Ridge Road in Boynton Beach, Florida. 8 CLE credits will be offered for this training pending Florida Bar approval.
CILO is offering seminars for attorneys to earn Continuing Legal Education (CLE) credits on disability related topics such as Social Security Disability, Special Education Law, Fair Housing, Employment Discrimination, and the Americans with Disabilities Act (ADA). The trainings will offer participants and practitioners an effective and interactive learning experience that provides them with the materials and instruction needed to assist them with handling a case.
According to Genevieve Cousminer, CILO's Executive Director, "We're delighted to introduce our new series of Continuing Legal Education Trainings to attorneys and paralegals in Palm Beach County." Ms. Cousminer continued, "Our CLE courses have been created as a social enterprise to help our nonprofit organization increase its margin so it's better able to expand its mission of promoting independence for people with disabilities and expanding opportunities in the community."
CILO's CLE Trainings will be taught by the organization's own staff attorneys, in addition to experienced private attorneys who will be invited to participate as guest speakers for a select number of trainings. For CILO's upcoming CLE Training on Social Security Disability Practice, the participating trainers will be Genevieve Cousminer, Esq., CILO's Executive Director; Monica Kalker Caruso, Esq., MSW, RCSWI, CILO's Advocacy Specialist; and Elizabeth Gormley, Esq., Lead Social Security Disability and Veteran Affairs Attorney at LaBovick Law Group.
To learn more about and/or register for CILO's Continuing Legal Education Trainings, visit http://www.cilo.org or call Genevieve Cousminer, CILO's Executive Director, at 561-966-4288, extension 100.
ABOUT COALITION FOR INDEPENDENT LIVING OPTIONS, INC. (CILO)
The Coalition for Independent Living Options, Inc. (CILO) is a community-based, consumer driven, civil rights organization for individuals with disabilities which is dedicated to promoting independence and expanding opportunities in the community. The agency provides a focal point where all persons, agencies, and support groups can turn for such services as advocacy in education, employment, fair housing transportation and benefit entitlement, independent living skills training, information and referral, peer support and disability sensitivity seminars.
All of CILO's independent living services are consistent with a philosophy of consumer control, peer support, self-help and self-determination, and strive to maximize the leadership, empowerment, independence, productivity and full inclusion of people with significant disabilities into the mainstream of society.