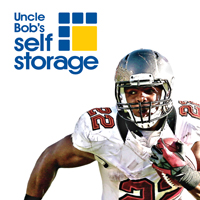 Tampa, FL (PRWEB) May 09, 2014
Doug Martin of the Tampa Bay Buccaneers will meet fans and sign autographs at Uncle Bob's Self Storage on Saturday May 17 from 1:00p.m.-3:00 p.m. Martin will appear at the Uncle Bob's located at 1792 W. Hillsborough Ave, Tampa, FL 33615.
With Martin's appearance, Tampa football fans will get their opportunity to welcome him back to the team and get ready for a new season. Sidelined with an injury in November, Martin was recently cleared to play. His March 31st tweet announcing his return was met with enthusiasm from fans, garnering more than 1500 favorites and 900 retweets.
"I can't wait to get back to work, and I am thrilled to be working with all the new faces in Tampa," Martin said. "This is going to be an exciting year for us and the fans."
The new faces include General Manager Jason Licht and Coach Lovie Smith. On Thursday, Tampa selected highly touted wide receiver Mike Evans from Texas A&M with the 7th overall pick in the NFL draft. Fans can expect a new look for the squad and a fresh start in 2014.
"As Bucs fans, we can't wait to see what all the changes bring for the season," said Patrick Brislin, area manager for Uncle Bob's Tampa facilities. "Doug is a valuable presence in our community and we know he enjoys connecting with fans."
Aside from meeting Martin, fans can take advantage of family-friendly activities at the storage facility. Kids can play video games on the Rolling Video Games game truck. Sports Radio WDAE 620 AM will be on hand with giveaways.
Martin will sign provided photographs from 1:00 p.m.-3:00 p.m., no memorabilia will be permitted.
For more information, visit UncleBobs.com/Doug.
About Doug Martin
Doug Martin is a running back for the NFL's Tampa Bay Buccaneers. He was drafted 31st overall in 2012 out of Boise State University. He currently holds the Buccaneers' single-season rookie rushing record with 1454 yards. Martin sponsors the "Doug's Avengers" fans section at Raymond James Stadium, a group of front row seats dedicated to local charities.
About Uncle Bob's Self Storage
Uncle Bob's Self Storage® is owned by Sovran Self Storage, Inc., (NYSE:SSS) a real estate investment trust (REIT) that acquires and manages self storage facilities. Uncle Bob's is one of the largest self storage companies in the United States with more than 475 storage locations spread across 25 states. Uncle Bob's currently has 15 self storage locations in the Tampa area.