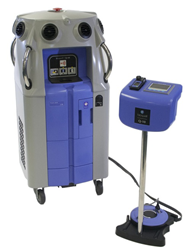 The use of hydrogen peroxide vapor in an automated room disinfection system provided by Bioquell has been tested to be an effective measure against the MERS-CoV.
Horsham, PA (PRWEB) May 13, 2014
Middle East Respiratory Syndrome Coronavirus (MERS-CoV) emerged in the last few years in the Middle East, with cases now reported from around the world. The United States has experienced its first documented case and solutions are already being sought to contain the disease before allowing it to become widespread. [1] The use of hydrogen peroxide vapor in an automated room disinfection system provided by Bioquell has been tested to be an effective measure against the MERS-CoV.
MERS-CoV is likely to be spread by both contact and droplet routes. Therefore, careful attention is required for the disinfection of rooms used to care for patients with MERS-CoV. A recent study from scientists at the University of Minnesota in collaboration with Bioquell demonstrates that the vapor is effective against transmissible gastroenteritis coronavirus (TGEV), which is closely related to the SARS and MERS human coronaviruses and is therefore used as a surrogate for testing. TGEV was dried on surfaces and exposed to hydrogen peroxide vapor, which demonstrated a greater than 4-log reduction in the viability of the virus which left no TGEV viable after the process. This demonstrates that Bioquell automated room decontamination is a viable option for the terminal disinfection of clinical areas used to care for patient with TGEV.
Commenting on the growing emergence, James Salkeld, Head of Global Healthcare at Bioquell, said, "We recognize the global concern surrounding MERS-CoV and believe that Bioquell technology provides a tool that could help to prevent transmission."
The importance of educating healthcare professionals on the upcoming developments of the disease remains an important focus for Bioquell. As a result, a 30 minute webinar hosted by Bioquell's Scientific Director Dr. Jon Otter will be available for these professionals to attend on May 15 with MERS-CoV the primary topic. If you would like to register to attend, or for additional inquiries, please contact Jason Merrill at jason.merrill@bioquell.com.
Dr. Otter is also available as an expert resource regarding MERS-CoV and other problematic contamination found within hospitals caused by MRSA, VRE, CRE, multidrug-resistant Acinetobacter baumannii, C. difficile, and others.
Please contact Jason Merrill regarding any inquiries at jason.merrill@bioquell.com.
[1] For information about the first case of MERS-CoV in the US, and others around the world, please visit: http://www.cdc.gov/media/releases/2014/p0502-US-MERS.html
About Bioquell
Bioquell specializes in the design, manufacture and application of complete bio-decontamination solutions for airborne and surface contamination in the healthcare, life sciences, food production and defense sectors. Bioquell's unique hydrogen peroxide vapor bio-decontamination technology has been used across the globe to eradicate problematic bacteria, viruses and fungi, throughout a wide range of applications. Services have been deployed across the globe and range from proactive to emergency based situations. For more information, please visit http://www.bioquellus.com.
Contact
Jason Merrill
Healthcare Coordinator
Bioquell, Inc
T: 215 317 1605
E: jason.merrill(at)bioquell(dot)com