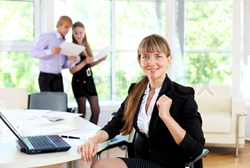 Los Angeles, CA (PRWEB) May 09, 2014
The Commercial Movers have often used data to provide insight as to where the industry might be headed, both technologically and financially. Recently, they have conducted one of the largest surveys in the company's history by employing industry specialists to run dozens of focus groups on the different services utilized or services that are most often desired but were unavailable at the time.
For example, the third party panel found that among twenty moving companies surveyed, The Commercial Movers edged the closest competition by earning net profits 4% higher. The company itself has experienced a record period of internal growth, resulting in net profits that are 46% higher than they were three years ago. When participants in a focus group directed to clients which had shifted their business to The Commercial Movers from a different moving company, 23% answered that they felt more comfortable and in a more professional environment when communicating with customer service representatives that work for the company.
In contrast, the company has spent 12% more in the past three years on research aimed at technological developments, and 4% more on employee training regimens.
When asked whether or not these two statistics were tied to one another, a spokesperson for The Commercial Movers acknowledged the fact. "Our most immediate goal has been to better train our new hires, but also to provide them with better tools to make their jobs easier. We only hire experienced individuals who we believe are already completely capable. They're the best in the industry, and so we focus more on technological research than we do on training. It's only logical that we spend money proportionate to our inherent strengths and weaknesses, and we pride ourselves in having great insight as to what those strengths and weaknesses actually are."
As a strong competitor, another period of growth is anticipated for the business moving company, but stiff competition is also expected. The Commercial Movers remain committed to increasing the satisfaction of their clients, and treat all those serviced as equals.
Additional details are available at http://thecommercialmovers.com/. The reports provided cover 23 services offered by the company, and the focus groups surveyed include participants from all over the country. The reports will be published online and through an eventual eBook compilation aimed at provided insight on other trends being experienced by all moving companies.
Press Contact
Tom Pinkus
The Commercial Movers
(424) 238-2070