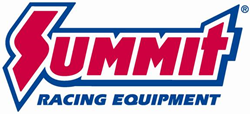 Tallmadge, OH (PRWEB) May 16, 2014
The new Powerjection III EFI System is a compact, plug-and-play fuel injection conversion. Installation is straightforward and the system can support engines making up to 550 horsepower.
Professional Products mounts the Powerjection III Engine Management System right to the throttle body, along with the injectors and idle air control. By putting all of those components into a single unit, the Powerjection III Kits eliminate much of the wiring associated with an aftermarket EFI conversion. The end result is a tidy engine bay, along with all the reliability and performance advantages of Professional Product's legendary Powerjection System.
Powerjection III Systems are programmable, but typical installation is plug-and-play. They're self-learning and will continually fine-tune themselves to driving habits and environment. Depending on the kit, you'll get the throttle body, fuel rails, injectors, wiring harness, ECM, O2 sensor, fuel pump, and fuel pressure gauge. The throttle body will bolt right up to most 4-barrel carburetor intake manifolds with a square bore flange.
SEE THE PROFESSIONAL PRODUCTS POWERJECTION III EFI SYSTEMS AT SUMMIT RACING
Summit Racing Equipment
http://www.SummitRacing.com
1-800-230-3030