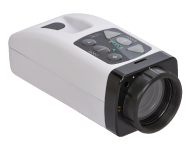 The TelCAM HD is an easy to use general examination camera designed specifically for Telemedicine
St. Louis, MO (PRWEB) May 10, 2014
JEDMED will be introducing the new TelCAM HD at the ATA annual meeting in Baltimore. This new system, which is designed specifically for Telemedicine, is an easy-to-use hand-held general examination camera used for capturing images of the body. This system utilizes interchangeable lenses, making it ideal for multiple medical applications.
This system has multiple purpose applications including dermatology, wound care, women's health, ophthalmology, primary care, and general diagnostic viewing.
The TelCAM HD includes the following features:

High definition output (HDMI)
Powerful, adjustable LED illumination
Easy to change lenses
Standard, distance, close-up, and polarizing lenses available
Stability rod for close-up surface imaging
Sealed membrane switches for controlling camera functions
Optional remote control
Ergonomic Quick Switch Control (QSC) grip
The TelCAM HD includes a freeze frame function, automatic white balance, auto-focus, and adjustable illumination, making it the ultimate general examination camera.
JEDMED will showcase this new camera at the American Telemedicine Association meeting in Baltimore. Please be sure to visit booth 5419 or call 314-845-3770.