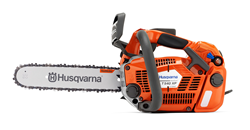 West Chester, PA (PRWEB) May 13, 2014
American Arborists Supplies has added Husqvarna's new T540 XP® chainsaw to its growing line of equipment and supplies for the professional arborist. President Dave Francis says that he has a significant number of the new saws in stock.
The Husqvarna T540 XP® is top handle saw for arborists, landscapers, gardening contractors and utilities. The new saw, which replaces the 338XP, combines excellent performance with the best ergonomics.
Ergonomic features include a top handle that can be set at three different sizes to fit the operator's hand comfortably; a light, strong, 14" TechLite bar that is up to 18% lighter than conventional bars; 3/8 Lo Pro chain pitch; a belt eyelet for quick, easy connection to the climbing harness; and reduced vibration levels, which lessens operator fatigue.
The 39cc (2.4 cu.in.), 2.4 HP engine has auto-tune, which compensates for different fuels, altitudes, humidity, temperatures and clogged air filters. An air-injection system keeps dust and debris out of the air filter and the convenient flip up tank cap allows easy fueling. The weight, excluding bar and chain, is 8.8 lbs.
The T540 is the latest addition to the Husqvarna line of outdoor power equipment available at American Arborist Supplies, an authorized Husqvarna dealer. American Arborists Supplies also stocks Husquvarna hedge trimmers, pole saws, mowers, tractors, snow blowers, string trimmers, brush cutters, tillers and cultivators.
Visit http://www.arborist.com for more information or to purchase the T540 XP®, or call 800-441-8381 or stop by the store at 882 S. Matlack Street, West Chester, PA 19382.