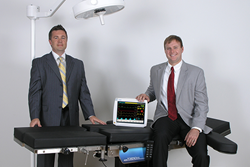 Louisville, KY (PRWEB) May 13, 2014
DRE Medical — a premiere medical equipment company — is pleased to announce its participation in the 2014 Ambulatory Surgery Center Association Conference in Nashville, Tenn.
DRE Medical equipment specialists Anthony and Dustin will be in booth #615 showcasing equipment that is priced right and perfectly suited for the needs of today's surgery centers including the top selling DRE Torino EXL Operating Room Table.
The DRE Torino is a prime example of what physicians need to keep up with industry trends — it is adaptable, well-made and good for any clinician's bottom line.
The Torino is outfitted with customizable moving parts that allow the operating table to shift into multiple configurations. Physicians can easily adjust the head, back and seat plates. A built-in kidney bridge, lateral tilt function and Trendelenburg capabilities make the Torino well-suited to a variety of procedures.
The Torino's adaptability and value has already been proven in the operating suite. Dr. Sam Sukkar, of Sukkar Aesthetic Plastic Surgery & Medical Spa, purchased a Torino for his practice.
"The versatility of this bed with regards to positioning was especially important in my selection of it," Sukkar said. "It is very quiet, powerful and flexible in a variety of patient positions, making the surgery easier and less strenuous on both surgeon and patient."
For 30 years, DRE has been helping medical professionals find the right equipment for their practices. The company's diverse line has customers covered for all of the necessary devices, with different functions and price points to work with any budget.
Connect with Anthony and Dustin on LinkedIn, and meet them in Nashville at booth #615. Customers who shop with DRE during the show can receive up to $2,000 in ORSupply bucks. Take advantage of this exclusive offer — only available at ASCA. Ask Anthony and Dustin for details.
Don't forget to check out other DRE customer favorites:

DRE Waveline Touch Patient Monitor
DRE Vision LED Portable Surgery Light
DRE Milano T50 Power Procedures Table
Join the Twitter conversation #ASCACONF and tweet @DREMed for special offers and industry updates. Have feedback to share? Email social (at) dremed (dot) com.