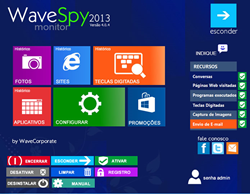 (PRWEB) May 09, 2014
Tablet users can now conveniently monitor activity on personal or business computers with WaveSpy Pro 2014, by security developer Wave Corporate. Now optimized for the Intel® Atom™ tablets for Windows* 8.1 platform, the app allows the user to monitor key strokes, Web activity, video downloads and more.
Applicable to both business and personal computing environments, WaveSpy Pro 2014 provides the user with detailed information including Internet browsing, social networking, Skype*, videos, pictures, Web camera, email contents and more. It even features the ability to monitor keystrokes to see exactly what a user types on a computer.
An expert security tool, WaveSpy Pro 2014 also uses the camera on the computer or tablet in question to track user behavior and patterns. The app then compiles this data into detailed reports that provide insights such as the amount of time a user spent browsing the Internet and the timeframe in which this occurred. In a business environment this provides an additional level of asset usage tracking. In a home or personal environment parents can monitor their children's activities and block out inappropriate emails or advertising.
The developers at Wave Corporate were offered support and access to Intel development tools, information through their relationship with the Intel® Developer Zone. The company has now fully optimized WaveSpy Pro 2014 for the powerful capabilities of Intel Atom tablets for Windows* 8.1.
"WaveSpy Pro 2014 helps parents and business owners supervise what is being accessed on their personal or business computers and mobile devices," says Vagner Costa of Wave Corporate. "Thanks to the portability of the Intel Atom tablets for Windows* 8.1, users can now conveniently monitor multiple devices, from anywhere."
WaveSpy Pro 2014 is now available to download at: http://www.wavecorporate.com.br/programa-espiao-wavespy-pro
About Wave Corporate
Founded in 1998, Wave Corporate is a pioneer in the development of software in the security segment and monitoring information. For more information visit: http://www.wavecorporate.com.br
About the Intel® Developer Zone
The Intel Developer Zone supports independent developers and software companies of all sizes and skill levels with technical communities, go-to-market resources and business opportunities. To learn more about becoming an Intel Software Partner, join the Intel Developer Zone.
Intel, the Intel logo and Intel Inside are trademarks of Intel Corporation in the U.S. and/or other countries.
*Other names and brands may be claimed as the property of others.
Copyright © 2014 Intel Corporation. All rights reserved.