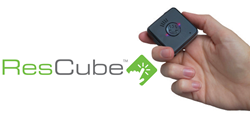 Soon One Call Alert customers will be able to take their medical alert system virtually anywhere they want to.
Houston, TX (PRWEB) May 13, 2014
One Call Alert, a leading medical alert service provider in North America, announced the launch of their first completely mobile personal emergency response system monitoring service. The service, named ResCube, will feature a sleek wearable electronic device and around-the-clock professional emergency care which solves the need of a more mobile solution for medical alert customers.
The ResCube service takes design cues from current wearable electronics leaders and will feature a stylish square pendant with a single circular button in the center. The pendant weighs less than 1.2 ounces and has a waterproof rating of IPX4. Even though it has a battery that can last more than two months between charges, the ResCube performs a diagnostic self-test every day to ensure cellular signal strength and battery level.
"Soon One Call Alert customers will be able to take their medical alert system virtually anywhere they want to. Heading to the grocery store? Take it with you. Going golfing on Sunday morning? Take it with you. The ResCube represents a significant jump forward in the level of care provided. Medical alert service is not just for home-bound people with severe medical issues. You can be an active senior and get significant value and peace of mind through One Call Alert," proclaimed Justin Noland, One Call Alert brand manager.
The ResCube mobile medical alert solution does not have the drawbacks of a heavy and often useless GPS based electronic device. If a ResCube customer needs to be located, the ResCube service accesses the government's U-TDOA tracking network through local emergency services to help pinpoint the location.
The ResCube program provides a completely mobile service for seniors and others wanting to remain living independently with peace of mind. Medical alert systems have, for years, been an effective way of providing needed help after a fall or medical emergency. However, current systems are designed for in-home use and electronically tether the customer to within a few hundred feet of the base station. ResCube cuts that tie and allows for true freedom and independence while keeping a valued sense of security.
One Call Alert enables independent living at home for seniors and others with 24/7 medical alert monitoring. One Call Alert is simple to use and reliable. Our No-Installation-Needed system delivers emergency care with just one push of a button. Whether you had a minor slip in your kitchen or you are having a medical emergency, One Call Alert will be there for you.
Visit http://www.OneCallMedicalAlert.com, email info(at)OneCallAlert(dot)com or call 800.994.2095.
If you would like more information about this topic, or to schedule an interview, please contact:
Justin Noland at (800)994-2095 or email info(at)OneCallAlert(dot)com.