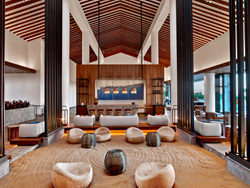 "With very few LEED certified hotels in Hawaii, we have a tremendous sense of accomplishment that our efforts surrounding energy efficiency have paid off," said Michael Stephens, General Manager, Andaz Maui at Wailea
Maui, Hawaii (PRWEB) May 08, 2014
Andaz Maui at Wailea, designed by the award-winning architecture and design firm WCIT in conjunction with the Rockwell Group, announced today that the property has earned the Leadership in Energy & Environmental Design (LEED) Silver certification. The U.S. Green Building Council's LEED green building certification system is the foremost program for the design, construction, maintenance and operations of green buildings.
"With very few LEED certified hotels in Hawaii, we have a tremendous sense of accomplishment that our efforts surrounding energy efficiency have paid off, and it's certainly a nod to Hyatt's philosophy of honoring the beauty of our surroundings," said Michael Stephens, General Manager, Andaz Maui at Wailea.
Andaz Maui at Wailea has a design approach that reduces energy and water consumption, minimizes waste and harmful emissions, and stresses sustainable design as an integral component of its overall strategy. Brightworks consulted on LEED program design and project management along with Hyatt's Project & Brand Design and Development Asset Management teams. Some noteworthy elements of securing the LEED Silver status include:

Reuse of 93% of the existing hotel's structural walls, floors and roof
An integrated master site approach offering ample open space for recreation, access to views and on-site stormwater. More specifically, the project's stormwater design earned an impressive 5 points, achieving both SSc6.1 and SSc6.2, each associated Regional Priority point, and one Exemplary Performance point. The project also earned Exemplary Performance for SSc5.2: Maximize Open Space
The use of healthy, low-emitting materials throughout. The project earned all four of the EQc4: Low-emitting Materials credits addressing: adhesives, sealants, paints, coatings, flooring systems, and composite wood products
Energy systems design offering an annual energy-cost savings of 19.9%
On-site renewable solar thermal system to provide almost 4% of project's annual energy costs
Sustainable elements throughout the resort include a solar hot water system, variable speed chillers, motion sensor lighting controls, LED lighting, and low flow plumbing fixtures. Environmental practices continue in-room, with automized temperature control and guestroom glassware made from recycled wine bottles.
The `Āwili Spa and Salon uses whole fruit to zest its house-made infused oils for massage and body treatments, and then the whole fruit (after being zested) goes to the bar lab for juices used in hand-made cocktails. Coconuts have many different uses at the Andaz Maui at Wailea, as whole, local coconuts, are husked, drained to extract coconut water, the meat is dehydrated to create body scrub, and the remainder is fermented to produce coconut oil for massage.
In the kitchen, a food hydrator is utilized to compost food waste and repurposed for gardening/ landscaping. Bio-plastic straws and reusable bamboo cutlery are used in outdoor food and beverage outlets; biodegradable disposable potato starch cutlery and bio-plastic cups are used for to-go orders. Linenless tables are used to reduce laundry, energy and water consumption. Almost all of the hotel's food and beverage ingredients are locally procured.
The gardening and landscaping staff does not use any gas equipment; green waste is recycled into mulch to help hold moisture for less use of irrigation.
Hyatt's commitment to environmental sustainability is supported through its global corporate responsibility platform, called Hyatt Thrive. For more information about Hyatt Thrive and Hyatt's commitment to the environment and the communities it serves, please visit: http://www.thrive.hyatt.com.
About Andaz Maui at Wailea Resort & Spa
Situated on Maui's premier southwestern coastline along Mokapu Beach, the 15-acre beachfront Andaz Maui at Wailea Resort & Spa features 297 guestrooms and suites, including seven luxurious two- to four-bedroom residential villas along with cascading outdoor infinity pools; a 14,000 square foot full-service spa with a private adults-only pool, apothecary retail and fitness facility; more than 15,000 square feet of meeting and event space and two highly acclaimed full service restaurants, including Morimoto Maui by acclaimed Chef Masaharu Morimoto. Designed by world-renowned architects, Rockwell Group, Andaz Maui at Wailea captures the spirit of today's Hawaii and is a certified LEED® Silver resort. As part of the Andaz brand, Andaz Maui at Wailea holds true to one of the brand's core elements – maintaining a connection and relationship with its neighborhood and hosting Andaz Salon programs showcasing emerging talents. For more information, please visit http://maui.andaz.hyatt.com.
About Andaz
Each Andaz hotel is a boutique-inspired hotel where our guests experience a vibrant yet uncomplicated atmosphere geared towards today's individual business and leisure travelers. Andaz hotels feature a unique and innovative service model that breaks down traditional hotel barriers with signature elements, including Andaz lounges, which are open, communal settings replacing the traditional lobby, Andaz Studios, which are creative and inspiring spaces for small meetings and gatherings, and Andaz Hosts, who assist guests with everything from check-in to recommending and making restaurant reservations. Room rates include minibar snacks and non-alcoholic drinks, local telephone calls and Wi-Fi.
###