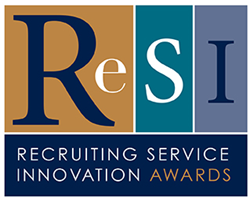 We are proud to have Voice Advantage recognized by such an accomplished group of evaluators.
Milwaukee, WI (PRWEB) May 12, 2014
The International Association of Employment Web Sites announced that Voice Advantage by HarQen has been selected as a semifinalist for the 2014 Recruiting Service Innovation Awards (the ReSIs). These awards are the first accolade to recognize ground-breaking sourcing and recruiting products and services that help employers achieve recruiting excellence by optimizing the capabilities and performance of their recruiters.
Voice Advantage is a digital interview platform that allows recruiters to source and screen candidates more efficiently and effectively. By bringing the voice of candidates into the screening process, recruiters are able to assess a candidate's tone, energy, and confidence. With these added insights, recruiters can identify and move the best candidates forward faster and spend more of their time recruiting top talent into their organizations than screening unqualified applicants out.
The employment service industry was hit hard by the Great Recession. But as the economy has strengthened, so have the companies that provide the tools recruiters use to find talent. By the end of 2016, the employment services industry is projected to grow to an annual value of $490.1 billion. (Research and Markets' Global Human Resources Employment Services report.) This growth is being led by a surge of technological advances producing a myriad of new recruitment products and services which the ReSIs will recognize and promote.
As Nan Weitzmann, Americas Talent Acquisition Leader at Hewlett Packard and a member of the 2014 ReSIs Selection Committee, explains: "The ReSIs recognize those solutions that provide a value-add to improve the recruiter experience. When recruiters are more effective and productive, the hiring process moves more quickly and enhances the overall candidate and hiring experience. "
"We are proud to have Voice Advantage recognized by such an accomplished group of evaluators. The recruiter experience has always been at the heart of what we do and we are excited to be part of the ReSIs and recognized with other great organizations that have a similar focus," said HarQen CEO, Ane Ohm.
Nominations for the 2014 ReSIs were submitted earlier this year. A blue ribbon Selection Committee composed of HR and recruiting executives from Hewlett Packard, Hyatt, Meritage Talent Solutions, New Belgium Brewing, and Outerwall, Inc. evaluated the submissions and selected the 17 semifinalists. A survey of actual product users will now be conducted and Platinum, Gold, and Silver Winners will be announced at a gala reception to be held at the conclusion of the SHRM Annual Convention & Expo on June 25, 2014 in Orlando, FL.
The 2014 ReSIs are the inaugural year of the award program. It is sponsored by Boxwood Technology and Simply Hired. In addition to the awards program, the ReSIs will collect and publish research on the best practices for supporting recruiting excellence in an increasingly competitive and global talent marketplace.
For more information about the IAEWS and the ReSIs, please visit http://www.employmentwebsites.org/recruiting-innovation-awards or contact Peter Weddle, IAEWS Executive Director at director(at)EmploymentWebSites(dot)org or 203.964.1888
About the IAEWS:
The International Association of Employment Web Sites is the trade association for the global online employment services industry. Its members include job boards, social media sites, aggregators, job ad distribution companies, applicant tracking system vendors, recruitment advertising agencies, and the companies which work with and support them. Collectively, they power or operate over 60,000 sites worldwide.
(http://www.EmploymentWebSites.org)
About HarQen:
HarQen was founded in 2007 and powers the award-winning Voice Advantage digital interview platform. Voice Advantage empowers businesses to interview and screen talent for every level of the job market and from every corner of the globe, to review candidates ten times faster, and to cut screening costs up to 70%. Voice Advantage was named Human Resources Executive, Top HR Product of the Year in 2010.
(harqen.com)