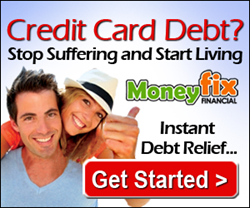 Newport Beach, CA (PRWEB) May 13, 2014
Moneyfix LLC, an American Fair Credit Council compliant debt resolution company, recently launched its performance based debt resolution service center. As a premier debt resolution company, Moneyfix LLC is comprised of debt professionals with decades of experience helping consumers get the debt help they need to eliminate their credit card, department store, medical and unsecured personal loan debts.
"We help people from all walks of life with all kinds of debt become debt-free," said one company executive. "The rising cost of living and lower wages have hurt so many working people, and we help them to resolve their debts in the shortest amount of time possible. Moneyfix is a consumer's first and best choice for debt solutions; we are 100% performance-based and FTC compliant."
The company's goal is to find the best debt solution for any consumer facing large amounts of unsecured debt. Our clients range from families facing tens of thousands of dollars in credit card debt to seniors with piles of medical bills, and everyone in between. The Moneyfix team knows that debt knows no boundaries, and people throughout the United States are wrestling with financial Credit Cards, Medical Bills and Student Loan Debt problems.
Americans are struggling with debt. Every media outlet, from ABC to the New York Times, is reporting on the millions upon millions of dollars owed by everyday people. The average American household owes over $15,000 in credit card debt and over $33,000 of student loan debt, which is unimaginable. Healthcare spending is roughly $9,000 per person, which means medical bills for the average American are up 3.7%.
These numbers add up to serious debt issues for working people. Wages have stagnated according to the federal government, so people are earning the same or less money but owe more to credit card companies, hospitals, health care companies, student loan companies and other unsecured debt corporations.
The good news is that there is a solution. Moneyfix LLC provides expert debt solutions to help consumers avoid bankruptcy and keep their credit scores as high as possible. While bankruptcy can ruin a person's credit rating for 10 years or more, Moneyfix is determined to provide high quality debt resolution options that will help pay off debt in 2-4 years. The debt solution professionals at the company are trained to find the best answers to consumer debt problems.
Finding the best debt resolution company requires research and knowledge, with the ultimate goal of getting debt free as soon as possible without damaging your credit score.
About Us:
Moneyfix LLC is an AFCC approved debt resolution company specializing in settling credit card, department store, medical and unsecured personal loan debts. So focus on consumers problems and our solution. The company is 100% performance based and FTC compliant. "If we don't resolve your debt's to your liking, you don't pay" It's that simple!
Moneyfix LLC is a AFCC accredited Debt Relief Agency offering consumers "performance based" debt resolution services in 19 states. With the new regulations set forth by the CFPB and the Federal Trade Commission Moneyfix operates under a strict guidelines assuring consumers a legitimate means of debt settlement.
To get more information on Moneyfix debt relief services call 888-287-8597.