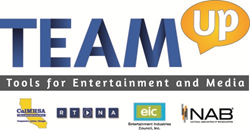 This powerful tool will bring the best powers of social media to broaden our understanding of mental wellness and suicide prevention. It will help make the next generation a healthier community of communicators. - Dr. Drew Pinsky
Los Angeles, CA (PRWEB) May 09, 2014
The Entertainment Industries Council's (EIC) TEAM Up (Tools for Entertainment and Media) has released first-of-its-kind Social Media Guidelines for Mental Health Promotion and Suicide Prevention, a set of tools that assist people in safely and effectively talking about mental health and suicide-related issues via social media. These tools include tips for creating safe comments and posts on Facebook pages, groups, Twitter feeds, Tumblr pages, websites and blogs and more, taking into account the unique safety, privacy and stigma-related aspects of these issues. The announcement was made by board-certified internist, addiction medicine specialist and media personality Dr. Drew Pinsky, Facebook Inc. Chief Security Officer and Member of the National Action Alliance for Suicide Prevention's Leadership team, Joe Sullivan and EIC President Brian Dyak, joined by the National Action Alliance for Suicide Prevention, California Mental Health Services Authority, and leading journalism organizations the National Association of Broadcasters and Radio Television Digital News Association.
"This powerful tool will bring the best powers of social media to broaden our understanding of mental wellness and suicide prevention. It will help make the next generation a healthier community of communicators and help to decrease labeling and stigma," Dr. Drew Pinsky said.
"Whether you want to share your own story, discuss events in the news or help others understand mental illness and encourage them to seek help when they need it, these recommendations will be a helpful resource for everyone, especially in teaching children and teens how to communicate about these issues. Safe, constructive communication via social media, that avoids stigmatizing or derogatory language and does no harm, changes the conversation and decreases discrimination," said Brian Dyak, Entertainment Industries Council, President and CEO and Co-Chair National Action Alliance for Suicide Prevention Public Awareness & Education Task Force.
"Social media makes it easier than ever to connect and share with the people you care about," said Joe Sullivan, Chief Security Officer, Facebook and Co-Chair National Action Alliance for Suicide Prevention Public Awareness & Education Task Force. "Knowing effective ways to seek input and offer support to friends and families about difficult topics is an important part of building a safe online community."
"The guidelines have been reviewed by experts in social media and the related health fields. When communicating online avoiding descriptions and images of suicide acts or methods can help reduce the risk of suicide contagion. Anyone can use this new tool to help someone who may be in crisis and potentially help save a life," Executive Director, Suicide Awareness Voices of Education Dr. Dan Reidenberg commented.
"California is a national leader in pioneering strategies and services that promote mental wellness, a historic effort made possible by voter-approved Prop. 63. California counties are working together through the California Mental Health Services Authority to efficiently and effectively deliver prevention and early intervention services that improve student mental health, prevent suicide, and eliminate stigma and discrimination," said Stephanie Welch, MSW, CalMHSA Senior Program Manager.
The Social Media Guidelines for Mental Health promotion and Suicide Prevention and additional resources for entertainment writers and journalists may be found at http://www.eiconline.org/teamup.
About Entertainment Industries Council
EIC is a non-profit organization founded in 1983 by leaders within the entertainment industry to bring the power and influence of the industry to communicate about health and social issues. The organization is considered to be the chief pioneer of entertainment and journalism outreach and a premiere success story in the field of entertainment education. This mission relies on providing resource information to the creative community and culminates in recognition of the industry through the national television special PRISM Showcase which addresses accurate portrayals of substance use issues and mental health concerns. The organization also produces the SET Awards, honoring positive and non-stereotypical portrayals of science, engineering and technology. For a complete list of health and social issues addressed by EIC and local projects please visit First Draft and EIC's website. EIC's web site is http://www.eiconline.org. The PRISM Awards web site is http://www.prismawards.com. The SET Awards web site is http://www.eicsetawards.com EIC's internet television network is EICnetwork.tv.
About TEAM Up
EIC's TEAM Up program is funded by the voter-approved Mental Health Services Act (Prop. 63). It is one of several Prevention and Early Intervention Initiatives implemented by the California Mental Health Services Authority (CalMHSA), an organization of county governments working together to improve mental health outcomes for individuals, families and communities. CalMHSA operates services and education programs on a statewide, regional and local basis. For more information, visit http://www.calmhsa.org TEAM Up resources are available in English and Spanish at http://www.eiconline.org/TEAMup TEAM Up also includes extensive Twitter outreach to further drive the conversation, highlighting news stories that accurately depict mental health, sharing resources and events, and offering guidance on mental health storytelling. Follow @MediaTEAMUp.
About National Association of Broadcasters
The National Association of Broadcasters is the premier advocacy association for America's broadcasters. NAB advances radio and television interests in legislative, regulatory and public affairs. Through advocacy, education and innovation, NAB enables broadcasters to best serve their communities, strengthen their businesses and seize new opportunities in the digital age. Learn more at http://www.nab.org.
About Radio Television Digital News Association
RTDNA is the world's largest professional organization exclusively serving the electronic news profession, consisting of more than 3,000 news directors, news associates, educators and students. Founded as a grassroots organization in 1946, the association is dedicated to setting standards for newsgathering and reporting. Although news techniques and technologies are constantly changing, RTDNA's commitment to encouraging excellence in the electronic journalism industry remains the same. RTDNA represents electronic journalists in radio, television and all digital media, as well as journalism educators and students. Our members are news directors, producers, reporters, anchors, general managers, professors, students, industry suppliers, operations managers and digital content managers. RTDNA members benefit from publications, training, advocacy and many opportunities to network with colleagues. Learn more at http://www.RTDNA.org
About The National Action Alliance for Suicide Prevention
http://www.ActionAllianceforSuicidePrevention.org is the public-private partnership working to advance the National Strategy for Suicide Prevention and make suicide prevention a national priority. Education Development Center, Inc. (EDC) operates the Secretariat for the Action Alliance, which was launched in 2010 by U.S. Health and Human Services Secretary Kathleen Sebelius and former U.S. Defense Secretary Robert Gates with the goal of saving 20,000 lives in five years. Contact: Eileen Sexton, Director of Communications, 202-572-5383, esexton(at)edc(dot)org.