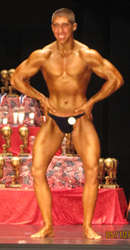 Limitations just teach you to be creative and think outside the box. This in turn makes you stronger - physically and mentally.
Peoria, IL (PRWEB) May 12, 2014
Patrick Lulay the owner of http://www.BullSharkElite.com, Health and Harmony LLC's sports branch, announces the latest natural body building results. Lulay releases photos of before and after his workout regimen which includes his 3 key success tips.
Lulay has certainly been through his fair share of setbacks. Whenever he felt like he was back on track, it seemed like life always dealt him something else. Lulay commented, "I was usually bigger than most kids so my coaches automatically put me in the position of a lineman. This is a great role, but it is fun to try out other positions too. As a lineman, it seemed like my coaches were constantly encouraging me to get bigger."
Lulay continues to say, "I was lucky because both of my parents come from a weight lifting background so they new that strength was the key - not just size: healthy size is what you want (as they would word it)." Lulay was faced with 2 nonconsecutive stress fractures in his back and battling polynomial cysts that even resulted in surgery his senior year during his high school career.
However, his love for athletics only became more powerful and drove him to adventure in other avenues of sports. These setbacks led him to natural body building, he recently competed in Peoria's Natural Body Building competition. Lulay says, "Limitations just teach you to be creative and think outside the box. I am allergic to fish and am unable to do deadlifts or squats so I had to figure out other methods to transform my 247 lb body to a lean 197 lb body for the show. This took determination, quality supplements (my personal favorite is the muscle recovery drink), and listening."
Although it sounds like 3 simple things, each item should continuously be fine-tuned. For example, determination means to follow a strict eating and training regimen for optimal results. Quality supplements means to be smart about the brands and products you choose. In this case more is not always better. This is why Lulay created http://www.BullSharkElite.com so that people could have a safe, reliable source for their muscle recovery drinks, protein bars and more. Lastly, listening means to ask for advice from people you trust like parents, peers (with the same values and results you'd like), and especially your body so you know how to adjust your program.
Lulay competed in the teen and the men's heavyweight (novice) brackets and proudly finished fifth in both. When asked how he felt about the show, he responded, "I think it went well for my first show. I would've liked to have been leaner; however, coming from 247 lbs with limitations, I was proud and excited with my results. Next time, my starting point will be a much leaner more fit me. Like any sport but especially in body building, it is a process where your goal is to improve on where you came from. I was blessed to have excellent trainers, a loving family, and supportive friends which makes life in general much easier and more fun all around,"
"To maximize the results of any sport, you have to combine your physical strengths with the mental strengths to excel beyond the standard limits. Everyone can change: you just have to want it enough." says Lulay.
About the Company:
Barb and Dick Lulay's (Shaklee Independent Dist) customers are passionate about naturally reducing their risk of disease while still maintaining a healthy, sexy body. Their customer service and product expertise make shopping with http://www.HealthandHarmonyLLC.com, and http://www.AirPurifiersDirect2U.com an ideal experience. With a full line of natural products such as air purifiers, natural supplements, green cleaners, weight management and paraben free skin care, families find they can conveniently do their household shopping online with home delivery. As successful business owners, the Lulays offer a mentoring program for other aspiring entrepreneurs. They present exceptional marketing tools and a training program that shows how to generate immediate income as well as long term passive income. You can register to learn more at http://www.123MyBiz.com.