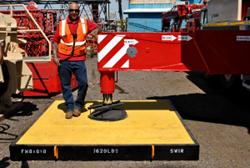 Fiber reinforced polymer technology first used in designing bridges is re-imagined for the crane market.
(PRWEB) May 09, 2014
Fiber reinforced polymer technology first used in designing bridges is re-imagined for the crane market.
The introduction of a new series of load distribution products at ConExpo-Con/Agg in March by DICA® Outrigger Pads has attracted the attention of the crane rental industry for their superior ability to support all types of equipment, even in poor soil conditions.
Designed to improve stability for the largest cranes under maximum loads, FiberMax Mega Duty crane mats offer a new solution for cranes working on most ground conditions and soil bearing capacities. Made of fiber reinforced polymers, the crane mats are strong and rigid like steel, but at 50 percent of the weight. Featuring high compressive and flexural strength, the FiberMax crane mat design can distribute concentrated loads over large areas to safely reduce ground-bearing pressure more effectively than wood or steel. This is critical when needing to spread loads over large areas to reduce the pressure being exerted by large equipment.
In addition, FiberMax's engineered material is not affected by the elements or prolonged use. The technology was first developed for building pedestrian and vehicle bridge systems as a lightweight, long-term replacement to heavy steel structures and rotting wood structures. The result is that the FiberMax mats won't rot, delaminate, rust or decompose like wood or steel.
"The reception of the FiberMax products by crane rental companies has been overwhelmingly positive," said Kris Koberg, CEO of DICA Outrigger Pads. "Crane rental companies are known to invest in some of the highest capacity cranes featuring the longest boom configurations. They have been looking for a company that has the credibility and industry knowledge to provide them with an engineered product that would significantly reduce transportation costs and provide the performance that is needed to meet today's stringent guidelines and safety concerns."
FiberMax Heavy Duty and Super Duty products have a very high concentration of fiberglass reinforcements, which creates a crush strength in excess of 400,000 psi and an average flexural yield strength of 60,000 psi.
Three Categories of FiberMax Products for a Variety of Applications
The FiberMax line is made up of three categories of products for different crane outrigger reaction loads and soil bearing capacities.
The Heavy Duty FiberMax Outrigger Pad line is similar to the Heavy Duty Safety Tech® line. It is a different material with higher rigidity properties that some customers may prefer to Safety Tech engineered thermoplastic material. Measuring 3/4-inch thick, Heavy Duty Outrigger Pads are appropriate for all different types of outrigger-stabilized construction equipment requiring up to 16 square feet of support.
The Super Duty Crane Pad line is specifically designed to provide the support mobile cranes need on softer soil or poorly compacted ground. Measuring 1½ -inch thick, the crane outrigger pads provide an extremely rigid base for equipment needing 9 to 16 square feet of area.
The Mega Duty Crane Mat line, available in standard thicknesses from 4" to 10" can be FIT® to every crane currently manufactured. They are especially well-suited to cranes rated from 100 tons and up. These crane mats are specifically designed for cranes and equipment that require large load distributing footprints due to high outrigger reaction forces or lower soil bearing capacities at roughly 50% the weight of steel constructed crane mats. This weight reduction has been proven to reduce the transportation costs for crane rental companies.
About DICA Outrigger Pads
DICA, Guthrie Center, Iowa, has been specializing in building better construction equipment and crane outrigger pads since 1988. By creating engineered solutions for improving equipment stability and ergonomic safety, DICA has led the way in educating crane and construction equipment users about the importance of using engineered outrigger pads in order to improve equipment stability and operator safety.
DICA outrigger pads, crane pads, and crane mats are used in a wide number of markets around the world, including construction, electrical utility, oil and gas and tree care as well as local, state and federal government agencies. Learn more at http://www.dicausa.com.
About Maximum Capacity Media Group Inc.
MCM Group LLC, a subsidiary of Heartland Communications Group Inc., publishes a number of heavy equipment magazines, electronic newsletters, and websites for the North American market. Its print products —Crane & Rigging Hot Line, Lift and Access, Contractors Hot Line, Attachment Connection, and Parts Connection—analyze new technologies, discuss industry trends, and review unique applications for buyers and owners of construction and rental equipment.