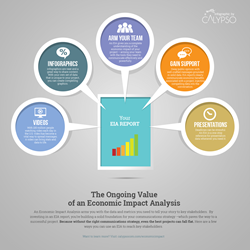 Calypso helps clients in the utility, renewable energy, power services, and energy technology sectors manage complicated industry issues and controversial public affairs.
Portsmouth, NH (PRWEB) May 12, 2014
Calypso Communications, an integrated, full-service public relations, marketing, and creative design firm, recently announced the integration of its successful Economic Impact Analysis (EIA) product with its full suite of creative and PR services. For the past 14 years, Calypso has created EIA reports that deliver research-driven information bridging industry knowledge, local culture, community demographics, and sound financial analytics to predict long-term energy and environmental project impacts. Building on this experience, Calypso is now helping clients communicate EIA data to key but diverse stakeholders, synthesizing it into social media, digital, and sustainability strategies.
Calypso helps clients in the utility, renewable energy, power services, and energy technology sectors manage complicated industry issues and controversial public affairs. In these industries, a thorough EIA establishes reasoned, reputable projections of host community benefits from a new project over a 20- to 30-year period. Properly designed, these reports parse complex project economics into clear projections for construction and full-time jobs, local wages and salaries, regional hiring for vendors, and spending across an array of categories, as well as property taxes and other direct economic benefits for government coffers.
"The agency has performed EIAs for years for renewable, independent, and alternate energy producers and developers, on projects that range from combined cycle gas-fired power plants to supercritical coal-fired stations. We've realized these companies need to do more than publish reports on economic benefits; they need to utilize multiple media platforms to broadly communicate project value to stakeholders," said Calypso Founder Kevin Stickney.
Stickney believes a credible EIA is especially powerful for developers of waste-to-energy facilities, fossil fuel power plants, utility scale solar arrays, or ridgeline wind farms, "all of whom have familiar Achilles' heels—truck traffic, greenhouse gas emissions, land use, and so-called aesthetic pollution," Stickney said. "But these reports aren't just for large-scale developers. Twenty-thousand small and midsized firms in the energy industry have contributed hundreds of billions of dollars to the U.S. economy in just the last few years. EIAs are vital marketing tools for energy businesses of all sizes."
Working with project sponsors and independent economists to model data, Calypso produces reports—as well as follow-on messaging, media training, and visual assets—that aim to address economic fears, attract local and regional media coverage, engage political and civic support for development, and profile project owners as committed, long-term community citizens. The agency also adds background narratives, illustrations, case studies, and historical perspectives as needed.
"Energy companies have long faced challenges between opponents and regulators, in neighborhoods and governments, and among investors and interveners," Stickney said. "Our goal, merging client expertise and experience with Calypso's creative marketing and media savvy, seeks an elusive end: public acceptance of sensitive energy and environmental projects by broadly diverse stakeholders."
About Calypso Communications
Calypso Communications is an award-winning, integrated strategic marketing, public relations, and creative agency based in Portsmouth, NH, north of Boston. Highly sought after on a national level for its seasoned insight and perspective, Calypso effectively manages—and, when necessary, fundamentally transforms—client communications, effectively engaging audiences crucial to driving business. For more information, visit http://www.calypsocom.com.