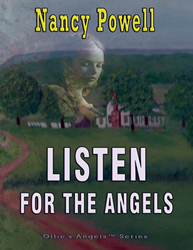 A must-read especially for those who loved Laura Ingalls Wilder! Mrs. Powell is a wonderful story teller in the Arkansas Tradition! --Amazon.com reviewer
Friendswood, Texas (PRWEB) May 27, 2014
In a 2012 Wall Street Journal article, Cynthia Crossen observes that the notable lack of modern novels set during the Great Depression may be due to the daunting challenge of "making art out of suffering." To help fill the void, Nancy Powell, Oklahoma Writers' Federation award winner, has contributed a new novel "Listen for the Angles." It tells the inspiring story of a family nurturing dreams and making good times in spite of such widespread bleakness.
"Listen for the Angels" is the third book in Powell's Ollie's Angels Series, the story of a gutsy Arkansas farm girl with a gift for angelic premonitions. Based on stories handed down in her own family, Powell tells Ollie's tale from her birth in the early 1900s, through the early years of her marriage to Roy Glenn, and into their later family life during the 1950s. Each chapter in this new book is an episode leading readers through adventures and revealing what it was like to live through the Great Depression.
"My mother lived during this era and truly believed in premonitions and guardian angels," says Powell. "This series shows history, prejudice, hardships, customs, and simple pleasures of farm and community life. It will refresh the memories of anyone who grew up on a farm and enlighten others about the joys and hardships of a Christian farm community from the early 1900s to mid 1950s. I hope it also entertains with mystery, suspense, and romance."
This new book picks up the story in 1937 as Ollie and Roy Glenn struggle to keep their farm during the Great Depression. Like so many others, they leave to pursue a better life in California, but finding it's not the Promised Land, they return to Arkansas.
On a small farm, they labor with mortgage payments, drought, and sickness. Roy leaves almost every year to find jobs to supplement farm income, while Ollie and the children work the land and struggle with storms, hunger, wild animals, and prowling neighbors who steal even diapers. Eventually, Roy wants to hire help, but Ollie's angelic premonitions cause her to plead against it. Later, they learn that the man requesting work is a serial killer who has murdered 22 people.
At last, Ollie and Roy can afford to buy the farm of their dreams in 1946. Their love story continues though the ups and downs of money, health, and family concerns until it finds a hopeful ending with four children grown and Roy and Ollie beginning their dream of operating a Grade 'A' dairy farm.
"Dark Secrets," the first book in the series, begins in the early 1900s with Ollie trying to get home after receiving a head injury in an attack by two boys suspected of rape and murder. She remains in a coma for five days, recalling vivid events of her first fifteen years. The coma ends when an angel tells her to wake up because her brother needs her.
In "Angels for All" Ollie believes in premonitions sent by guardian angels, but has no warning of hardships to come with drought and The Great Depression. Roy and Ollie start married life in a two-room sharecropper house, striving for a better future and a place of their own. Each chapter is an episode that illustrates different challenges imposed by farm life and this stark period in American history.
The Ollie's Angels Series is available at Amazon.com, Barnes and Noble, Books-a-Million, and other booksellers.
Nancy Powell is married and the mother of two children and grandmother of seven. She is a member of the Valley View Church of Christ, River Valley Writers of Fort Smith, Oklahoma Writers' Federation, Inc., and Roundtable Poets. She has an Associates degree from the University of Arkansas, Little Rock. Over the years she has received several awards including one for her "Ollie's Angels" series by the Oklahoma Writers' Federation. She is retired from the City of Fort Smith with 29 years of service as Traffic Coordinator.
TotalRecall Publications Inc. was founded in 1998 by Bruce Moran, a former NASA IT professional who transitioned into computer instruction and educational materials. The company began with the introduction of study guides and Q&A testing software for various computer and financial certification exams and expanded into library and information science textbooks in 2007. Since 2008, the publisher has been developing a fiction product line by debut authors that focuses on mysteries, thrillers, and military action. Additionally, TotalRecall has expanded into general nonfiction and now publishes more than 200 non-fiction and fiction titles, all distributed worldwide through book retailers and wholesalers and via eBook databases such as ebrary, EBSCO, and Books24x7.com. http://www.totalrecallpress.com.