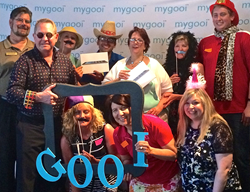 Omaha, Nebraska (PRWEB) May 09, 2014
A day spent baking didn't mute Michele Kaiser's voice when it came time to take the mic at Mygooi.com's inaugural karaoke competition Wednesday night, say organizers of the pre-Big Omaha event. And while the chance to win an iPad was her incentive, her winnings went much further: television producer/director/actor Ed Ellington will be making a promotional video valued at $10,000 for her business.
GoioiKaraoke was featured as some 100 Omaha entrepreneurs gathered for "disruptive" networking near Omaha's Old Market District.
"It was wonderful!" said Kaiser, owner of Alotta Brownies Bakery, 317 North Main Street in Fremont, 40 miles northwest of Omaha. "I have never won anything. I can't even win at the penny slots. I hadn't planned on topping the competition but I wanted that iPad so badly, so this is awesome. I loved the event, and I'm so glad I came even though I baked 350 pounds of cake batter during the day, and I'm tired."
Kaiser added that she had applied to jump start her business through the ABC reality eries "Shark Tank," but was not selected by the show's producers. "I want to re-apply, because our business needs funding for a packaging project. I'm looking for investors who can help take us to the next level. I have big dreams for my business! We were recently chosen by All American Cooking magazine as one of the top ten bakeries in the United States for bars and brownies, so we want to build on that momentum."
Runner up in the competition Jose Dimas, account executive for Strictly Business Omaha magazine, also won an IPad.
The event was part of the 2014 GooiNation Street Team world tour, which began in April with visits to the Netherlands, Germany, England and France. Mygooi is a new cloud-based mobile technology brand with headquarters in Des Moines, Iowa, and Chennai, India. The tour highlights the upcoming world debut of the Mygooi mobile device platform.
Wednesday night was a gathering of entrepreneurs seeking to promote their businesses. Mygooi's unique business karaoke featured a live Omaha DJ, a cash bar and complimentary food and drinks.
The event's host, Des Moines networking guru Danny Beyer, said GooiKaraoke "really got people out of their comfort zones. The event itself got people excited about a product that hasn't even been released yet! People were enthusiastic. People were Gooi!"
Attendee Emily Shinn, Creighton University nursing student and an entrepreneur with Origami Owl, a mail order custom jewelry business, said at the event that she became aware of it on the internet. "I searched for 'small business Omaha networking' and the event's Facebook event popped right up. I had a final just this morning, so I was free this evening. I didn't even know how to pronounce 'Mygooi' or what to think of it. It was so nice to meet local people and share business advice."
About Mygooi
Mygooi™ is a cloud based mobile technology company that creates a new social business network called the Gooi powered by Electronic Word of Mouth™. We put advanced mobile application technology at the fingertips of businesses and consumers to set free the power of innovation and enterprise around the world. Mygooi will always be free to download and use. Mygooi. An EWOM Company™.
See Mygooi updates and watch GooiNation grow on Facebook at https://www.facebook.com/mygooi.
Visit our new website and download the app upon release at http://www.mygooi.com.
Mygooi supports the Cystic Fibrosis Foundation. Check them out at http://www.cff.org.
Media Contacts:
Kyle Eason, Media Relations, US
Mygooi
641-840-9518 / Kylee(at)mygooi(dot)com
Mark Perlman
Mygooi
312-315-0707 / Markperlman55(at)msn(dot)com
Richard Greb
Mygooi
847-651-1445 / rgreb(at)aol(dot)com