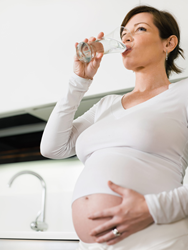 "Many of our RO customers are expectant parents which have recently learned about the benefits of RO water from their doctors"
City of Industry, CA (PRWEB) May 09, 2014
For most people, Mother's Day is one of the most precious holidays on the annual calendar. While many will happily celebrate this special day with their mothers, the arrival of Mother's Day can actually cause mixed emotions for expectant women worried about the potential complications that can occur with their pregnancies. When first informed of the wonderful news, women immediately start to consider what they should eat but what they drink during the early trimesters can be equally important.
Most experts advise expectant mothers to abstain from drinking alcoholic beverages and to reduce the amount of caffeinated drinks they consume. They recommend drinking more water which is ideal for overall health and hydration; however, they often fail to mention that quality is important and that water should always be pure and contaminant free.
Water that contains even minute traces of pollutants can be harmful to the developing fetus, particularly in the early trimester. Chemicals such as polychlorinated biphenyl (PCB) and Bisphenol A (BPA) can cause congenital birth defects, whereas heavy metals such as lead, mercury, and fluoride can damage the fetus's developing brain. With thousands of different chemical, heavy metal and microbial pollutants present in today's environment, contamination can sometimes be found in tap and even bottled water. Fortunately, this modern day concern does have a modern day solution.
A reverse osmosis (RO) system is widely regarded by many as the best water filter for producing high quality, safe drinking water straight from the tap. Unlike basic faucet and pitcher filters which only remove chlorine and odors, RO filtration systems can remove up to 99% of most contaminants known to be toxic to both general human and prenatal health. As a leading RO manufacturer and authority, APEC Water is well aware of the concerns of new mothers. "Many of our RO customers are expectant parents which have recently learned about the benefits of RO water from their doctors," says Ken Wong at APEC Water. "When they order a system, we provide a complimentary total dissolved solids (TDS) meter. This digital water tester allows them to regularly check the quality of their filtered water and ensure the safety of their drinking water for years to come. From conception, to birth, to college, every child deserves the best drinking water and so do their wonderful Moms!"
About APEC Water
For over 17 years, APEC has been an industry leading manufacturer of high performance residential and commercial water purification systems. Based out of Southern California, APEC specializes in building the highest quality reverse osmosis systems and backwashing whole house water filters right here in the USA. The company offers their products exclusively through their website at Freedrinkingwater.com which also provides an extensive water filtration guide and library to the public. To learn more about APEC Water and the Total Solution system, please visit http://www.freedrinkingwater.com or call customer service at 1-800-880-4808 for more information.