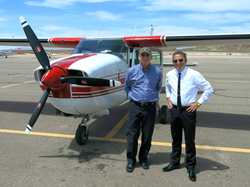 Flight planning is part of every commercial pilot's skill set. Smooth flying and consistent approaches are a hallmark of advanced training
Newport Beach, CA (PRWEB) June 10, 2014
Marc C. Lee Contributing Editor of Plane & Pilot Magazine earns Commercial Pilots License in 5 days at Cedar City Utah location.
AFIT continues to be the future for General Aviation pilots. The US military has continuously utilized accelerated flight training for our pilots. Years of experience has proven, full-time, intense training leads to a greater level of skills, proficiency and confidence necessary to operate safely as a well- trained pilot.
AFIT's team of educated and experienced Senior Flight Instructors and technical specialists are recognized for excellence in service by local, national and international business communities.
Plane & Pilot Magazine is published by Werner Publishing Corporation
12121 Wilshire Boulevard, 12th Floor, Los Angeles, CA 90025
For further information contact: Tony P. Montalte, President & CEO, AFIT Accelerated Flight & Instrument Training, PO Box 9099 Newport Beach, California 92658 866-270-8224