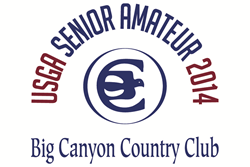 Newport Beach, CA (PRWEB) May 10, 2014
Big Canyon Country Club, host site of the 60th U.S. Senior Amateur Championship, is pleased to announce they will be providing a fun and exciting day of golf, entertainment and auction opportunities at their Spring Golf Gala scheduled for Monday, May 12th.
Big Canyon Country Club is extremely proud to have been selected to host this prestigious event but there are significant costs associated with putting on an event of this magnitude. Therefore, the club developed several fundraising opportunities including the Spring Golf Gala to grow funds as well as awareness.
According to Jack Norberg, U.S. Senior Amateur Championship Committee Fundraising Chairman, "May 12th is approaching quickly. If you want to play the exclusive Big Canyon Golf Course and support our efforts in bringing this monumental event to Orange County, register today. Also, proceeds that exceed the tournament costs will be donated to support the SCGA– Youth on Course."
The Spring Golf Gala includes a great day of golf, cart fees, tee prizes, lunch and dinner prepared by some of the finest restaurants in Orange County; Red O, The Beachcomber, Provenance & The Bungalow. In addition to some gaming fun on the golf course with LPGA Superstar Natalie Gulbis and an opportunity to win a new Rolls-Royce, there will be once in a lifetime auction opportunities like golfing excursions to Merion Golf Club, Pine Valley Golf Club, Medinah and more at the evening gala. Plus vacation trips to Maui, La Quinta, and Green Lake, Wisconsin.
The cost for the Spring Golf Gala is $1,500 per player and your spouse is invited to dinner and the live auction and a substantial portion will be tax deductible. There are a limited number of spots left. To participate, contact the Big Canyon Country Club Pro Shop at 949-706-5923 or email rpang(at)bigcanyoncc(dot)org.
About The U.S. Senior Amateur:
The 60th U.S. Senior Amateur Championship will be held at Big Canyon Country Club from September 13th through September 18th. Approximately, 150 of the best senior men amateur players representing various region of the United State will be competing.
The USGA Senior Amateur, for players 55 and older, is one of 13 national championships conducted annually by the United States Golf Association, 10 of which are strictly for amateurs. The 156-player field will go through 36 holes of stroke-play qualifying, and a field of 64 contested six rounds of match play to determine a champion.
The first U.S. Senior Open Championship was played June 26-29, 1980, on the East Course of Winged Foot Golf Club in Mamaroneck, N.Y. Established as a result of the remarkable growth in senior golf, both at the professional and amateur levels, the championship attracted 631 entries. The inaugural Senior Open was conducted for golfers 55 and older, with a handicap limit of eight strokes for amateurs. The field included former U.S. Open champions Lew Worsham, Julius Boros, Ed Furgol, Jack Fleck and Tommy Bolt. Former U.S. Amateur champion William C. Campbell was also a competitor. Roberto De Vicenzo, a national hero in his native Argentina, won with a one-over-par 285, four strokes ahead of runner- up Campbell.
In 1981, the USGA lowered the age minimum to 50 to make the championship more competitive. The USGA also believed that lowering the minimum age would place the Senior Open in the mainstream of other senior competitions. The second Senior Open was won by another national hero, Arnold Palmer, 51, at Oakland Hills Country Club in Birmingham, Mich. Palmer won in an 18-hole playoff with Bob Stone and Billy Casper. With his victory, Palmer joined JoAnne Carner as the only players to win three different USGA cham- pionships (Jack Nicklaus, Carol Semple Thompson and Tiger Woods have since accomplished this feat). In 1982, at the Portland (Ore.) Golf Club, Miller Barber won the first of his three Senior Open titles. Barber shot a final-round 65 and set the 72-hole scoring record of 282. He also won the 1984 and 1985 championships.
Dale Douglass broke Barber's record in 1986 with a 72-hole score of 279. In 1987, Gary Player lowered Douglass's record by a remarkable nine strokes when he shot a 72-hole score of 270 at Brooklawn Country Club in Fairfield, Conn., to win. He was the only player to shoot four rounds in the 60s until Tom Weiskopf turned the trick in 1995. Weiskopf shot 69-69-69-68—275 on the Blue Course of Congressional Country Club in Bethesda, Md., to win. U.S. Open champions have performed extremely well in the U.S. Senior Open, winning 10 of the 30 championships. U.S. Open champions who have also won the Senior Open are: Arnold Palmer (1960 U.S. Open; 1981 Senior Open), Billy Casper (1959, 1966 U.S. Open; 1983 Senior Open), Gary Player (1965 U.S. Open; 1987, 1988 Senior Open), Orville Moody (1969 U.S. Open; 1989 Senior Open), Lee Trevino (1968, 1971 U.S. Open; 1990 Senior Open), Jack Nicklaus (1962, 1967, 1972, 1980 U.S. Open; 1991, 1993 Senior Open) and Hale Irwin (1974, 1979, 1990 U.S. Open; 1998, 2000 Senior Open).
The growth of senior golf has meant steadily increasing fields for the U.S. Senior Open. In 2002, a record 3,101 entries were accepted by the USGA. The final two rounds of the U.S. Senior Open were broadcast live on national television beginning with the championship's 1980 inaugural. It has been telecast nationally ever since. Don Pooley and Tom Watson staged the first three- or four- hole playoff in 2002. The format was installed in 1999. Pooley won with a birdie on the fifth hole.
For media information, contact:
Vanessa Price at 714-544-6515 or [readthegreens(at)aol(dot)com].