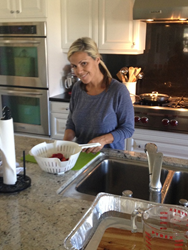 'For clients who are looking for one-on-one cooking lessons, this is the perfect opportunity,' says Chef Jodi Abel. 'Guests no longer need to come to my kitchen to experience what Lajollacooks4u has to offer. Lajollacooks4u can come to you!'
San Diego, CA (PRWEB) May 13, 2014
Lajollacooks4u has put a new spin on their traditional cooking and dining experience by introducing the Private In-Home Cooking Class package. Southern California locals can now bring the magic of Lajollacooks4u, and the culinary expertise of Chef Jodi Abel, into their own home.
While keeping true to the delicious flavors and top-rated experience known of Lajollacoosk4u, the new cooking classes are a departure from the traditional cooking class package. With the new Private In-Home Cooking Class, Chef Jodi Abel, owner and chef at Lajollacooks4u, provides guests with a shopping list to either purchase or supply the necessary ingredients. Chef Jodi arrives at the guest's home, and works with the guests in the hands-on preparation of their gourmet meal.
Throughout the cooking process, Chef Jodi explains how to use seasonal ingredients in multiple ways, demonstrates proper knife skills, and covers various cooking techniques—all from the comfort and leisure of the guest's home.
The new set of cooking classes came to fruition after Chef Jodi Abel's visit with Dyanna Burak for a two-day, Private In-Home Cooking Class. Chef Jodi provided one-on-one cooking lessons to Burak from Burak's stunning kitchen in Carlsbad. The two women explored different meat dishes, first focusing on various rubs and sauces for a beef tenderloin recipe, then on techniques and styles for grilled fish.
Chef Jodi is thrilled to offer this type of class as a lower-cost, smaller group alternative. "For clients who are looking for one-on-one cooking lessons, this is the perfect opportunity," says Chef Jodi Abel. "Guests no longer need to come to my kitchen on top of Mount Soledad to experience what Lajollacooks4u has to offer. Lajollacooks4u can come to you!"
The extraordinary hands-on cooking and dining experience of Lajollacooks4u now takes place in the comfort of the guest's home kitchen. For pricing and more information regarding cooking class packages, please visit Lajollacooks4u's website at http://www.lajollacooks4u.com.
About Lajollacooks4u
Lajollacooks4u, founded in 2008, provides a unique and intimate activity for couples, corporate team building, and any foodie looking for a unique cooking and culinary experience in an ideal setting overlooking the Pacific Ocean. Based in La Jolla, a suburb of San Diego, CA, Lajollacooks4u has enjoyed record growth since its inception and is ranked as a top attraction in La Jolla on the world's largest travel review site, Trip Advisor. For more information, contact Jodi Abel at jodi(at)lajollacooks4u(dot)com or phone 1-858-752-4980. Lajollacooks4u customizes all events to meet the desires and needs of the organization. For reservations, contact Jodi Abel, or visit Lajollacooks4u's website at http://www.lajollacooks4u.com.