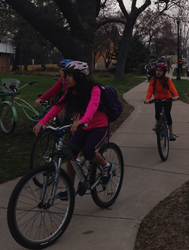 Biking to school is fun. I do it almost every day.
Edina, MN (PRWEB) May 09, 2014
Over 250 students rode their bikes to school on May 7, 2014 as part of National Bike to School Day. The event began early in the morning with kids departing from their homes alone, with friends or parents. Some joined staff-led groups that departed at 7:15 AM from three different meet-up sites in the school district. Bicyclists arrived at school where they locked up their bikes and received granola bars, bike pins and a raffle ticket. Excitement filled the air as bikes piled up around racks and trees. The students were all smiles for the group photo.
"Biking to school is fun. I do it almost every day when it's warm. It was even more fun today because there were so many more kids biking and we could win prizes," said a sixth grade girl.
The grand finale of the event was an assembly at the end of the school day where bicyclists were praised by School Counselor, Paul Andress, and Mayor Jim Hovland. The speeches were followed by prizes being awarded to lucky raffle ticket holders. The giveaways included leg straps, bike pins, helmets, bike lights, bike tune-up coupons and more. Every student left with something. The over $1,000-dollar bike gear giveaway was made possible thanks to generous donations from Dero Bike Rack Co., People for Bikes, Calhoun Cycle, Bike Alliance of MN, Charlie's Tangletown Bike Shop, Hoiggards, QBP, CatEye and Penn Cycle. The event was organized by the South View Middle School Cycling Club and Bike Edina, a volunteer organization that advances bicycling in Edina.
"The event was a huge success. There was a significant increase in student participation this year over last," said Tim Sudeith, Bike Edina member. "It's inspiring to see students and staff share a passion for cycling."
Bike to School Day encourages a nationwide bike-focused celebration for students in the month of May. Bike to School Day events raise awareness of the need to create safer routes for bicycling and walking and emphasize the importance of issues such as increasing physical activity among children, pedestrian safety, reducing traffic congestion and concern for the environment. The events also build connections between families, schools and the broader community.
About National Bike to School Day
National Bike to School Day, coordinated by the National Center for Safe Routes to School, provides an opportunity for communities across the country to join together to bicycle to school on the same day. The event builds on the excitement surrounding National Bike Month, led by the League of American Bicyclists each May, as well as the popularity of Walk to School Day, coordinated by the National Center for Safe Routes to School every October. For more information on bike to school activities, visit http://www.walkbiketoschool.org.
About Dero Bike Rack Co.
Since 1995, Dero has been supplying innovative bike parking and bicycle transit solutions to architects, contractors, municipalities, higher education, and parks and rec. Its bike racks, repair stands and pumps, shelters, and lockers are high quality, thoughtfully designed and secure. Dero also offers the award winning Dero ZAP, an automatic system to track bike commuters. Dero is located in Minneapolis and is proud to support biking locally and nationally.