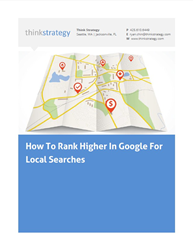 By following some simple steps, businesses can expand their local reach and improve their search rankings in Google. - Bernard Ablola, Think Strategy Partner
(PRWEB) May 13, 2014
Seattle-based digital marketing agency, Think Strategy, wants businesses to understand the importance of local search in reaching as many customers and prospects as possible, thanks to a just-released report. In it, Think Strategy outlines the significance of a smart, well-executed local search strategy in a company's digital marketing strategy. By ranking higher on Google's search results pages, businesses will increase their visibility and traffic, while giving them an edge over their competition. Businesses need to take advantage of local directories and targeted local keywords. This report also explains the importance of joining the conversation that your customers are already having about your business through social media.
"By following some simple steps, businesses can expand their local reach and improve their search rankings in Google," said Bernard Ablola, Think Strategy Partner. "People are on the move, so businesses need to adapt to the changes and help their customers and prospects easily find them. Incorporating some basic strategies can help boost a company's reach almost exponentially."
The report on how to businesses can improve their rank in Google local search can be downloaded for free.
About Think Strategy
Think Strategy is a full service digital marketing agency firm with locations in Seattle, WA and Jacksonville, FL, that assists business owners and marketing professionals with creating and executing an online strategy. Their goal is to help clients increase leads and sales on the web.
Think Strategy was founded by Bernard Ablola, Partner; Ryan Chin, Partner and Francis Ablola, Inbound Marketing Consultant. Together, the team has been responsible for driving millions of dollars in sales for their clients over the past 10 years.