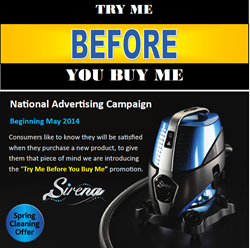 NEVER BUY BAGS AGAIN
Ottawa, Ontario (PRWEB) May 10, 2014
The program is called "Try Me Before You Buy Me" and allows consumers to "rent" a Sirena system and try it in their homes before committing to a purchase. "Many of our dealers have signed up for this great new program and more are signing up daily," explained Sirena president Toufic (TK) Khayrallah. "This program was created in response to consumers who were inquiring about how a water filtration vacuum works," he went on to explain.
Consumers may visit any authorized Sirena dealer to inquire about the program and for a nominal deposit (which can be put towards the purchase) they can see for themselves why this new bagless system is taking the world by storm. "In this day and age consumers are much more savvy and are demanding better value for their money, the Sirena system will exceed their expectations," Mr. Khayrallah went on to explain.
The Sirena Total Home Cleaning System uses water as a primary filter. This form of filtration has been proven much healthier for individuals with breathing disorders such as asthma and allergies. Pet owners will appreciate the effectiveness of water as well since you can maintain 100% cleaning efficiency, 100% of the time. To find a retailer near you visit Sirena's website and view the dealer locator.
More info:
Sirena Inc.
5459 Canotek Rd.,
Ottawa, ON Canada K1J 9M3
Phone: 613-695-6444
Fax: 613-695-6414
Toll Free: 1-855-474-7362
E-mail: Info(at)SirenaInc(dot)com