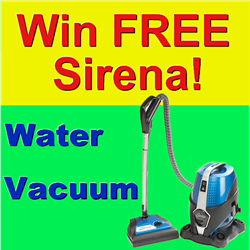 Sirena offers the most powerful, most effective and most economical choice
Ottawa, Ontario (PRWEB) May 10, 2014
"We're very excited to extend this promotion to August 2014," stated Toufic (TK) Khayrallah, company president. "To date, we have given away 8 systems", he went on to explain, "and everybody who enters has an equal chance of winning."
To qualify for the sweepstakes, consumers simply "Like" Sirena on Facebook, then enter their contact information and watch the website for winners. Winners are selected at the beginning of each month, and then shipped their new system.
Sirena is a water filtration vacuum cleaner that is definitely attracting a lot of attention. Prior to Sirena, the only high quality water vacuums available were sold by direct sales companies door to door. These systems will clean your air, aromatize and deodorize, and act as a wet vac.
Visit the Sirena dealer locator to find a store near you and see what all the hype is about. You can also check them out online at http://www.sirenainc.com.
More info:
Sirena Inc.
5459 Canotek Rd.,
Ottawa, ON Canada K1J 9M3
Phone: 613-695-6444
Fax: 613-695-6414
Toll Free: 1-855-474-7362