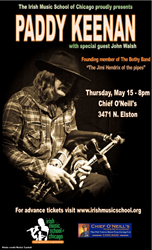 In a live situation, uilleann piper Paddy Keenan is…the most exciting traditional musician in the world. His inventiveness and willingness to take risks…makes his playing an endless source of fascination for traditional music lovers… — Musical Traditions
Chicago, IL (PRWEB) May 09, 2014
For the Irish Music School of Chicago, great traditional Irish music is integral to the fabric that Chicago is made of. As part of its mission to keep Irish arts alive in Chicagoland year-round, the Irish Music School of Chicago presents Paddy Keenan, founding member of The Bothy Band, with special guest John Walsh, in concert and teaching musician workshops at Chief O'Neill's Restaurant and Pub (3471 N. Elston - Chicago) on Thursday, May 15. The "Tunes of the Bothy Band" workshop will run from 6:30-7:45pm and the concert begins at 8pm. Concert tickets are $20 for adults and $15 for children and seniors. The 75-minute workshop costs $25 and is open to all musicians. Private lessons are also available with both musicians.
The legendary Paddy Keenan was born in Ireland to a travelling family steeped in traditional music. Both his father and grandfather were uilleann pipers. Keenan took up the pipes at the age of ten, played his first major concert at 14, and later performed with the rest of his family in their group The Pavees.
At 17, having fallen in love with the blues, Keenan left Ireland for England and Europe where he could play blues and rock-n-roll. A few years later he returned home and began playing around Dublin with singer/keyboardist Triona Ni Dhomhnaill and singer/guitarist Micheal O Dhomhnaill. Fiddler Paddy Glackin joined the three, and they asked flute player Matt Molloy to play with them shortly thereafter. Next accordion player Tony MacMahon joined the group, and then guitarist Donal Lunny was asked to listen to the six. Liking what he heard, he joined as well, and the loosely-knit band began calling itself Seachtar, the Irish word for seven.
Later, after some band member changes, fiddler Kevin Burke joined Ni Dhomhnaill, O Dhomhnaill, Mollov, Lunny and Keenan. They decided the band needed a new name. O' Dhomhnaill came across a photograph taken in the 1890s of a group of tattered musicians. It was titled, "The Bothy Band," in reference to migrant Irish laborers who lived in stone huts called "bothies." O' Dhomhnaill suggested the band take that name, the others agreed, and thus was born one of the most influential bands of the 1970s, The Bothy Band.
The Bothy Band forever changed the face of Irish traditional music, merging a driving rhythm section with traditional Irish tunes in ways that had never been heard before. Those fortunate enough to have seen the band live have never forgotten the impression they made — one reviewer likened the experience to "being in a jet when it suddenly whipped into full throttle along the runway." Keenan was one of the band's founding members, and his virtuosity on the pipes combined with the ferocity of his playing made him, in the opinion of many, its driving force. Bothy band-mate Donal Lunny once described Keenan as "the Jimi Hendrix of the pipes." More recently, due to his genius for improvisation and counter-melody, he has been compared to jazz great John Coltrane.
Keenan's style has continued to mature in the years since the break-up of The Bothy Band as he has pursued a solo career. He regularly performs concerts all over the world including as a member of the Irish Legends Tour, Eire Japan, and the Irish Pure Drops tour in Europe. Keenan has composed and arranged music for several film projects and has recorded in recent years with many major artists in the world of Irish traditional music and beyond, including fiddler James Kelly, flute player Larry Nugent, Steve Morse of Deep Purple and the Dixie Dregs, Mary Chapin Carpenter, Bela Fleck and Tim O'Brien.
Keenan's flowing, open-fingered style of playing can be traced directly from the style of such great travelling pipers as Johnny Doran. Both Keenan's father and grandfather played in the same style. Although often compared to Doran, Keenan was 19 or 20 when he first heard a tape of Doran's playing, so his own style is a direct result of his father's tutelage. Generally acknowledged as the most accomplished uilleann piper performing today, Paddy is certainly one of the most brilliant musicians of his generation, and can rightfully claim his place alongside such piper legends as John Cash and Johnny Doran.
Keenan will be joined by guitarist, John Walsh. In 1992, Walsh brought his family from Ireland to the United States. Now they reside in New York, where he writes, performs and records. Walsh grew up in Kilkenny, Ireland, where first learned to play the tin whistle – his first instrument. After learning tunes on the whistle, his mother's guitar seemed a logical progression. To his luck, a local musician was kind enough to "show him around the fretboard," and soon Walsh was part of the thriving music scene in Kilkenny.
Walsh is also an Audio Engineer and owns and operates St. Canicea's Backyard, a recording studio specializing in Irish traditional music. He has worked with many different artists – including Pat Kilbride, Keith O'Neill, Mike Rafferty, Frankie Gavin, David Power, Seanchaí, Paddy Keenan and others. His style of guitar picking is based on Irish jigs and reels. And, when he and Keenan perform together, they create something that doesn't "come to town" every day.
For more information and to purchase tickets, visit http://www.irishmusicschool.org, email info(at)irishmusicschool(dot)org or call (773) 412-5082. Chief O'Neill's Restaurant and Pub is located at 3471 N. Elston Ave., Chicago, IL 60618.
About the Irish Music School of Chicago
The Irish Music School of Chicago is a leader in teaching traditional Irish music to students of all ages by utilizing the traditional methods of teaching by ear and telling the stories behind the tunes, and the significance of being part of a living musical community. As a not-for-profit organization, the Irish Music School is committed to maintaining the strong tradition of Irish music, song and dance, to involve more people in the community of Irish music, and ensure that this type of music does not disappear in Chicago and the United States.