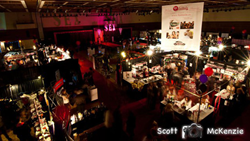 Cuisine Santé International cookware is working to improve your health and our planet
Ottawa, Ontario (PRWEB) May 10, 2014
For those who have never attended a Sexapalooza event, you don't know what you're missing. "There was an awful lot of blushing going on" claimed head Chef Mike Ayoup, "it is definitely an eye opener to see how liberal society has become".
Cuisine Santé has been attending the show since its inception in 2012. Last year's show resulted in over 400 couples signing up for a free dinner for two at the Cuisine Santé showroom in Ottawa. The show was such a hit the 2 locations in the GTA are now attending the Toronto version of the show. Sexapalooza attendee's may now also attend the Live Cooking Show at location, 12 Upjohn Rd., Toronto, or 5800 Ambler Dr., Mississauga.
Should you wish to attend one of the Live Cooking Shows you can sign up on the Cuisine Santé website http://www.csil.ca or by calling them directly.
Ottawa 613-288-9020
Toronto 647-352-8844
Mississauga 905-212-1500
Montreal 514-223-3234
For other locations please visit our website http://www.csil.ca