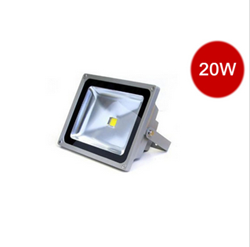 (PRWEB) May 11, 2014
COBLights.com, the well-known led lighting company from China, is now providing worldwide customers with its latest designs of 20W COB Floodlights. According to the company's chief executive officer, all these high quality floodlights are offered at discounted rates, up to 30 percent off. The special offer will be valid until the end of May.
The company's new 20W COB Floodlights are well designed by experienced specialists. They are very comfortable to handle.
"We are excited to reveal our new 20W COB Floodlight selection. They are all of top quality and offered at affordable prices. Our qualified workers deploy strict quality control from sourcing to delivery. Please note the promotion will last until May 31. Those who are thinking of buying cheap 20W COB Floodlights through the internet can visit our online shop now," the CEO says.
For additional information, COBLights.com has promised that all its customer data is secure. At the moment, the company is providing similar great discounts on its other products like OB Track Lights, 3W COB Down Lights and so on. Excellent custom made lights are also offered to its new and old customers.
About COBLights.com
COBLights.com is a famous company of high quality COB products. The company insists that COB LED products are more suitable than conventional LED packages when it comes to various lighting applications. All its items are featured with great power density, efficient heat dissipation, small space requirement and high performance. It wants to make online shopping more convenient and economical for worldwide clients.
For more information about the supplier and its high quality items, customers can visit: http://www.COBLights.com/.