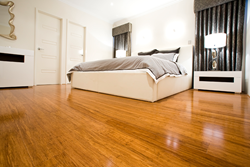 (PRWEB) May 09, 2014
Recently, BambooIndustry.com, a leading bamboo lumber supplier, has announced its bamboo lumber promotion with great discounts, up to 30%. The promotion is valid until June 5, 2014.
BambooIndustry.com specializes in high-quality bamboo products, including bamboo floors, bamboo mats, bamboo carpets and more. According to an engineer of the company, bamboo lumber is pressed in a circumstance of high pressure and high temperature from bamboo strips which have been well treated, including boiling, drying, gluing. It can be milled for the building and projects as hardwood.
Based on the website, Bamboo lumber can be pressed in horizontal grain, vertical grain and strand woven; bamboo lumber is harder than most of wood because of its high density 750 kg/m3 (horizontal and vertical bamboo lumber), 1200 kg/m3 (strand woven bamboo lumber.
Bamboo lumber comes in a variety of dimensions and lengths. The colors can be natural and caramel. The bamboo lumber from BambooIndustry.com are available in 3000mm, 2400mm, 2000mm in length, and 16mm, 20mm, 32mm, 40mm, 42mm in thickness.
The CEO of the company says, "We have large quantities of bamboo lumber in stock now, and we can make the products according to your requirements. Being confident of our bamboo engineers and their rich experiences, we highly recommend our bamboo products to customers around the world."
About BambooIndustry.com
BambooIndustry.com is a website that belongs to BothBest Bamboo Flooring Co. Ltd., a professional supplier and exporter of bamboo products. Certified by both ISO9001:2008 and ISO14001:2004, the company has 8 years of experience in the manufacturing and wholesale of bamboo flooring products. It strives to bring its customers the latest styles and innovations of bamboo flooring, bamboo paneling, bamboo plywoods, bamboo furniture, and other bamboo products.
More information about the business and its bamboo products can be found at http://www.bambooindustry.com/bamboo-plywood/bamboo-lumber.html.