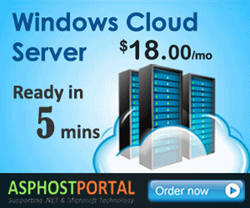 Spend just $18.00/month for a quality Dedicated Windows Cloud Server. The Windows Cloud Server will be provisioned in just 5-10 minutes.
New York (PRWEB) May 12, 2014
ASPHostPortal.com, a leading Windows web hosting provider, proudly announces the most affordable Dedicated Windows Cloud Server hosting. ASPHostPortal.com's Dedicated Windows Cloud Server Services is offered from as low as $18.00/month only and the Windows Server is provisioned in just 5-10 minutes.
With ASPHostPortal.com's Windows Dedicated Cloud Server, Web pages will load faster for ecommerce customers, databases will get higher IOPS and applications streaming large volumes of video and media files will experience low latency when customers run their applications.
The following is the $18.00/month Windows Dedicated Cloud Server's features:

Windows 2008R2 / 2012
Data Center OS Version
1 x vCPU
1 GB RAM
40 GB Storage (SSD)
1000 GB Bandwidth
1000 Mbps Connection
1 Static IP
SAN Storage
"A scalable and flexible cloud servers account costs $18.00 per month and gives our customers 40 GB Storage (SSD), SSD might make the server boot faster, it is now up to 100 times faster than a hard drive," said Dean Thomas, Manager at ASPHostPortal.com. "The most amazing thing is your Windows Cloud Server will be ready in just 5-10 minutes."
Cloud server systems are run on an infrastructure with very powerful processors and SAN Storage, which is typically faster for most applications. A storage area network can be easier to manage than other storage systems. By consolidating information into one easily accessible place, it becomes easier to access information while also making it simple to increase capacity as and when required.
Windows Cloud server probably holds the best stability / cost ratio performance. They do not suffer from the usual server hardware problems and they have all Cloud computing, benefits, i.e. they are stable, fast and secure.
Where to look for the best Windows cloud server service? How to know more about the different types of hosting services? Read more about it on http://asphostportal.com.
About ASPHostPortal.com:
ASPHostPortal.com is Microsoft No #1 Recommended Windows and ASP.NET Spotlight Hosting Partner in United States. Microsoft presents this award to ASPHostPortal.com for the ability to support the latest Microsoft and ASP.NET technology, such as: WebMatrix, WebDeploy, Visual Studio 2012, .NET 4.5.1/ASP.NET 4.5, ASP.NET MVC 5.0/4.0, Silverlight 5 and Visual Studio Lightswitch.
ASPHostPortal.com is a hosting company that best support in Windows and ASP.NET-based hosting. Services include shared hosting, reseller hosting, and SharePoint hosting, with specialty in ASP.NET, SQL Server, and architecting highly scalable solutions. As a leading small to mid-sized business web hosting provider, ASPHostPortal.com strive to offer the most technologically advanced hosting solutions available to all customers across the world. Security, reliability, and performance are at the core of hosting operations to ensure each site and/or application hosted is highly secured and performs at optimum level.