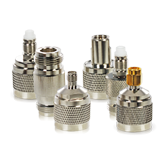 (PRWEB) May 11, 2014
Today, Excel-Wireless.com, a popular electronic parts manufacturer and retailer, announces its new RF coaxial connector collection, including SMA connectors, TNC connectors, MCX connectors and more. All these products are of precision grade.
The top engineer of Excel-Wireless.com says, "A RF coaxial connector is an electrical connector designed to work at radio frequencies in the multi-megahertz range. RF connectors are typically applied with coaxial cables and are designed to maintain the shielding that the coaxial design offers. We have a wide variety of standard and custom RF coaxial connectors for customers now, and all of them are offered at cheap prices."
Excel-Wireless.com is committed to offering outstanding service, value and quality for its global customers. Its products are widely used in military, automotive, medical, instrumentation, telecom and wireless fields. The new RF coaxial connectors come with a high degree of flexibility, and the company can make adjustments based on customers' requirements.
Along with RF coaxial connectors, Excel-Wireless.com is offering a great range of cell phone boosters and UHF antennas. Top quality products demonstrate Excel-Wireless.com's dedication to meet the continued mechanical and environmental requirements of various industries.
The company's engineers team is ready to solve complex technical problems for its customers, and help them to thrive in an exceptionally challenging business environment. The business has developed very fast recently, and many clients become return customers.
About Excel-Wireless.com
Excel-Wireless.com is a leading global supplier of cellular amplification and wireless communication systems with a focus on cell phone boosters. The business has many years of experience in the industry with a trackable record that it has cooperated with many companies, universities, military and government agencies and communities in all sizes around the world. For more details of the company and its products, please visit: http://www.excel-wireless.com/rf-coaxial-connector.